The
Free State
town of Welkom will soon have its retail sector merged into a regional mall with national retailers as its anchor tenants.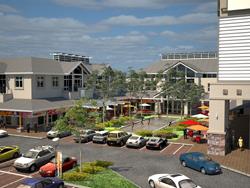 Retail Africa, in partnership with Shoprite Checkers and RPP Developments, is developing a R500m mall in the second largest town in the Free State. Goldfields Mall, anchored by Checkers, Edgars and Woolworths, will have a footprint of 34 000sqm in the heart of Welkom's CBD and comprise 100 retail outlets.
The launch is planned for 28 October 2010.
For the first time, shoppers in this Free State town will have the likes of Truworths, Foschini, Mr Price Sport, Clicks, and Reggies under one roof.
According to Retail Africa's national leasing manager, Richard O'Sullivan, the mall will consolidate the current retail on offer in Welkom. "It is adjacent to the Goldfields Casino and the building has incorporated the old Joshua Doore retail complex, most of which has been demolished and rebuilt. Goldfields Mall will offer real convenience, safe and easy access, ample free parking and a pleasant environment.
"It will be positioned as 'the heart of Welkom', a promise that it will fulfil by being a true community mall, even though it will offer the diversity, scale and the overall shopping experience of a regional centre."
The mall will attract shoppers from a population of some 400 000, living as far afield as Odendaalsrus, Virginia and Hennenman. "The centralised retail offering promise to boost the local economy. It will keep capital in the city, as Welkom residents will no longer have to undertake their customary shopping trips to Bloemfontein."
The retail offering will comprise all the categories associated with a development of this scale – from several known national retailers to independent outlets with products ranging from fashion and accessories to homeware and services.
Architecturally, the one level mall is a modern take on the sheet metal structures typically used in early mining settlement with modern finishes in restrooms, mall furniture and complimented by ample natural light.
A central restaurant piazza will function as the heart of the mall.
Readers' Comments Have a comment about this article? Email us now.