BKB Eiendomme will bring two productive wine and vegetable farms located in Vredendal under the gavel on Friday 26 October.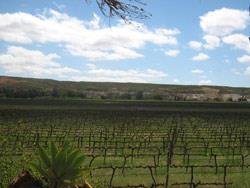 Cultivated with vineyards and vegetable crops, both Morewag and De Wilgers farms are certified 'organic' and enjoy prime locations on the Olifants River, says Albie Loubser from BKB.
"With a ten year supply agreement in place with leading organic wine producer, Stellar Winery, this investment offers an established market for production," he says.
From a total land extent of 89.7ha, Morewag Farm has approximately 35.93 ha under vines, 10.69ha of cultivated fields and a further 30ha of arable land yet to be developed.
Water assets include a listing for 30.9 ha scheme water, which can be further supplemented with borehole water.
The vineyards, which are all trellised, have drip irrigation and include several noble varieties.
The property offers a four bedroom, two and a half bathroom main residence, a manager's house, workers' accommodation and various stores.
The adjacent De Wilgers farm comprises a total of 25.3ha, of which, approximately 23ha are suitable for vegetable production. Irrigation is benefited by a 12.9ha listing for scheme water and three pivots.
It has a four bedroom, one and a half bathroom main residence, a separate flat, stores and workers' accommodation.
As it takes a minimum three years of chemical free agriculture and other strict controls to obtain organic certification, the auction of these properties, which will be sold as going concerns, offer a valuable shortcut to the investor looking to take advantage of the certified organic credentials and ready market that both farms offer, according to BKB Auctioneer, Willie van Rensburg.
Van Rensburg says recently, a complete viticultural renewal program was implemented with a view to increase future production.
The vineyards have been matched to suitable soils and good farming practices are clearly evident throughout and this allows the new owner to seamlessly take over production and continue with the farming operation, he explains.
The farms will be sold separately and the sale is subject to a reserve price.
The auctioneer or their agent shall be entitled to bid up to the reserve price on behalf of the seller, but shall not be permitted to make a bid equal to or exceeding the reserve price.
The auction will take place on site on Friday 26 October at 11am
In KwaZulu-Natal, the historical Indian Trading Post will be auctioned on 7 November at 11am at the Durban Country Club.
Situated right in the traditional Indian Trading District of the Durban CBD, Victoria Street has played a vital role in the history of Durban's Indian Citizens going back to 1910.
Once declared as a free trading area for Citizens of Asian descent, Victoria Street amongst other streets in the area became the major hub for Indian traders, and people of Indian origin could for the first time buy commercial properties within the then declared "Indian Business District of Durban".
This part of Town is without a doubt the heartbeat of traditional Indian culture in Durban, according to auctioneers in2assets.com.
Rainer Stenzhorn from in2assets.com explains that the building is a mixed-use commercial property with a historical façade and consists of two consolidated erven, a double storey street line assembly and 8 storey block of shops, flats and offices.
The interesting mix of 83 commercial tenants with frontline and alley shops, jewelry manufacturing and wholesaler entities as well as trading offices, cookeries and showrooms feed a constant flow of foot traffic through the complex.
The balance of the entire 155 tenants comprises of 72 residential units and the total income per annum of the building generates a gross turnover of ± R 3.16 million.
"The sought-after building has never changed hands in 50 years and we are extremely proud to be mandated to sell a property of such a nature," says Stenzhorn.
The property falls also within the Urban Development Zone of eThekwini and therefore offers a tax incentive of up to 20 percent for its future investor.
Rawson Auctions Western Cape will auction homes in various locations.
Tanya Jovanovski says they will auction two apartments at the Grand Central apartment development in Main Road, Wynberg in Cape Town on 25 October at 12pm at Rawson Property Group's Head Office located at the corner of Klipper and Main Roads in Rondebosch.
She says this location has proved to be a shining example of how to give buyers and buy-to-let investors – a conveniently situated, low -priced home in the heart of a busy retail and commercial precinct that is within easy walking distance of railway, bus and taxi terminals, as well as several good schools.
The first apartment, unit 360, has one bedroom, one bathroom and an open-plan kitchen/lounge.
It currently commands a rental of R3 300 per month and the owner has to pay a monthly levy of R534. Bids are expected to start from R400 000.
The second apartment is unit 227, a corner unit with two bedrooms, a bathroom with a bath and shower, a separate kitchen, an open-plan lounge, as well as its own dedicated parking bay.
It commands a rental of R4 500 per month and the owner pays a monthly levy of R850. Bids are expected to start from R700 000.
She says it should be noted that agents in the area are currently marketing a one bedroom apartment in this development from R590 000 and a two bedroom apartment from R840 000.
In another auction, Jovanovski says for over a decade, low- priced apartments have provided the best returns for buy-to-let investors – often in the region of 8 to 10 percent from the day of purchase.
One such good buy is a one bedroom apartment in Costa Mews at Costa da Gama, the affordable residential estate on the eastern side of Marina da Gama, to be auctioned on 23 October.
Units in this estate have views of the Muizenberg range and are located within a few minutes' drive of the beach and the attractive Muizenberg retail/social hub.
It currently commands a rental of R3 300 per month, however, the tenant will be leaving once transfer has taken place, she says.
Access to the Costa Mews complex is controlled and all-round electrified fencing on top of a security wall ensures a high degree of safety.
Jovanovski is expecting bids from R300 000.