Kitchens are the heart of a home, but more than that, they are a commodity - they add value - and as a rule, they come with a big price tag. This is not a room in the house that you can keep changing as trends come and go - annual impulse updates are just not affordable.
You don't need to break the bank to give your kitchen a value-adding facelift, it's about being clever so you can stretch your rands further.
That said, according to Arnold Jardim, managing director of bespoke cabinetry company, Dezign A Door, if you plan and budget before embarking on a kitchen makeover, you can make sure you get the best value for money without cutting corners and quality.
"Making every cent count, so you can live with and love your kitchen, starts with the appointment of a reputable supplier for the job," says Jardim, who cautions that consumers should only use a Kitchen Specialists Association of South Africa (KSA) registered company. "This will protect you should things go wrong, and you will have recourse and a means to recoup your losses. Shop around and ask for references while selecting your supplier."
He says evaluating what you can save from your existing kitchen is another smart way to minimise the bottom line, freeing up budget for other improvements.
1. Keep your carcasses
You can easily 'refresh' your kitchen's look by replacing the cupboard doors.
"If your kitchen cupboard carcasses are still in a good nick, consider simply changing the doors, reworking your colour scheme and fitting funky new handles. You can even do the installation yourself. Installing doors doesn't require that you have a degree in DIY - it's actually quite simple," says Jardim.
Should you decide to simply replace the doors, it's a good idea to take the old ones in to ensure the dimensions for the new doors are 100% accurate. Alternatively, use a measuring tape with 1mm increments and measure the reverse of the doors, they normally have square edges which makes them easier to measure more precisely.
"Although you might be trying to keep costs down, be sure you don't cut costs when it comes to your hardware. Only use high-quality runners and hinges, they work hard, and if the average lifespan of a kitchen is 15-odd years, you want these parts to last. There's nothing more frustrating than constantly replacing hardware, and the joy you will experience from a marginal saving will quickly be replaced with the disappointment of bad quality runner.
Jardim's advice on hardware is to purchase a quality hinges, including a baseplate with either 8mm grommets or euro screws as they won't pull loose or rip out of the carcass sides as easily as the cheaper alternatives. He says that the modern hinges allow for up to 3mm adjustment, up and down, in and out. "It's advisable to get your door supplier to pre-drill the hinge holes, though, so enquire about this service. Handle positioning is a personal choice, so this must be done on site," he adds.
2. Door-to-drawer ratios
A good idea is too increase your kitchen's door-to-drawer ratio.
If your current kitchen isn't outfitted with many drawers, Jardim says that before you begin your kitchen makeover, review the door-drawer ratio.
"While it's all about personal preference, it goes without saying that drawers are much more practical and it's advisable to have as much as 60% of your floor units as drawers. With cupboards you have to get on your knees to look for items stored at the back, while drawers provide access to the contents without having to unpack them first," he says.
3. Doors in vogue versus personal preferences
"When selecting your new doors, go for styles that are timeless yet classy. A Venice semi-solid door, also known as a shaker door, is a good option that's ageless and will have widespread appeal. This look works in both a natural wood finish and a painted medium density fibre (MDF) board option," says Jardim. Adding to this, he says that one of the most popular cupboard choices currently is doors with integrated handles, or handless options.
"Don't be swayed by popular opinion though, you need your home to reflect your personality and if the rest of the house is more traditional, then this change could look out of place. The same applies to the current on-trend finishes - white oak, with a natural effect paint gives an 'unfinished' natural feel and is great when combined with grey. It's true - two-tone oak and colour combining is stylish and in vogue, but if this doesn't resonate with you, don't do it. The same holds true if your home is open-plan, make sure your new kitchen will work with the room it flows into," advises Jardim.
4. Focal features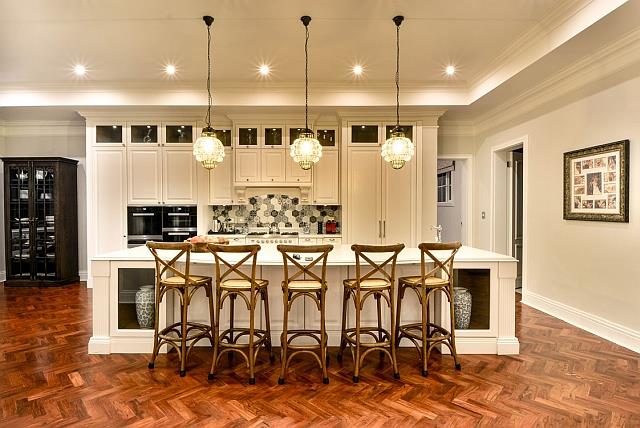 A way to add something to your kitchen that's very on trend is to commission just one central feature like a statement island.
Another way to add something to this room that's very on trend is to commission just one central feature like a statement island. The rest of the kitchen can be made over by simply replacing the doors, but allocating the bulk of your budget to the new focal point will give the appearance of a more extensive makeover. "You could also use granite on the island and a cheaper timber or laminate for the other counters - it's about being clever so you can stretch your rands further," says Jardim.
5. Final effects
A kitchen can also be transformed by adding a coat of fresh paint to the walls, and an accent wall goes a long way towards a new look without a hefty price tag. You can also consider introducing a new splashback with a funky tile to mix things up.
Purchase some new bar stools, or use what you have but paint half of the legs in the colour of your new cupboards, to tie the new look together. New taps, light fittings and countertop accessories can be included in your budget, even if you only introduce at a later stage. These updates will refresh the final finish and go a long way towards creating your dream kitchen.