The residential property market in Klerksdorp is buoyant at the moment, thanks mainly to the fact that it has a range of properties available to suit home buyers in all income brackets.
This two bedroom, one bathroom townhouse in Klerksdorp is in a secure, access controlled complex. It has a carport with parking for two additional cars, is close to amenities and is selling for R735 000 -
click here
to view.
This is according to Jaco Faurie, co-franchisee of RealNet Klerksdorp, who says prospective buyers should come armed with a home loan pre-approval to avoid missing out on their dream home.
"Klerksdorp has experienced a resurgence of the property market since the recession, and there has been much residential and commercial development in recent months."
Consequently, he says they have a good variety of top-notch listings just waiting for the right buyers to come along, but demand is also high and sellers are now looking more closely at the offers they receive to make sure that the buyer will be able to come up with the necessary finance.
So in order to assist buyers in having a positive buying experience, he says RealNet is offering to help them apply for home loan pre-approval.
He says this involves supplying the lender with bank statements, payslips, proof of residence and various other documents, and having your credit record checked, in order to establish what size bond the bank would be willing to approve.
This two bedroom, two bathroom home in
Wilkoppies
is full title. It has 24-hour security and a double garage. It is on the market for R1.49 million -
click here
to view.
"Once you have done this, you will have a much better idea of how much you can spend, and we will be able to match you with your ideal home more quickly, and the seller will be able to accept your offer with confidence, so you are much less likely to get into a bidding war with other buyers."
Faurie's partner, Pierre Ludick, says there is currently strong buying activity in most sectors of the market and most price brackets.
"Since the opening of the Matlosana Mall late last year, we have started to see a lot of interest in industrial property in Uraniaville, for example, and we foresee a healthy future for this type of property elsewhere in Klerksdorp due to its growing importance as a commercial, medical, retail and education hub."
Meanwhile, small developers are buying up vacant land with the view to building cluster homes in the R1 million to R1.2 million price range and bigger developers are looking for land where they can build larger numbers of homes in the R500 000 to R700 000 price range.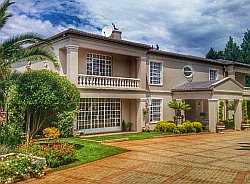 This five bedroom, three bathroom architectural home is situated in Wilkoppies. It has a gourmet kitchen, study, tennis court and pool, and is on the market for R4.5 million -
click here
to view.
"As for pre-owned homes, demand is strongest in La Hoff for homes priced at between R700 000 and R800 000, and in Doringkruin for homes in the R800 000 to R900 000 range," he says.
Faurie says that a further attraction for prospective home buyers in Klerksdorp is that the past few weeks has seen the establishment of neighbourhood watches in every suburb.
"Communities in the different areas have really come together to organise themselves and we have already seen a drop in crime."
He says this will certainly have a positive effect on the property market, because safety and security is a prime concern for home buyers, but it has also brought about a real community spirit in most neighbourhoods.