South Africans have had a disruptive start to the year, thanks to rising fuel prices, long periods of load shedding, and a national election. Many are "feeling the pinch" and facing financial uncertainty. How has this period of economic worry translated into consumer confidence in the residential homes, commercial property and motoring markets?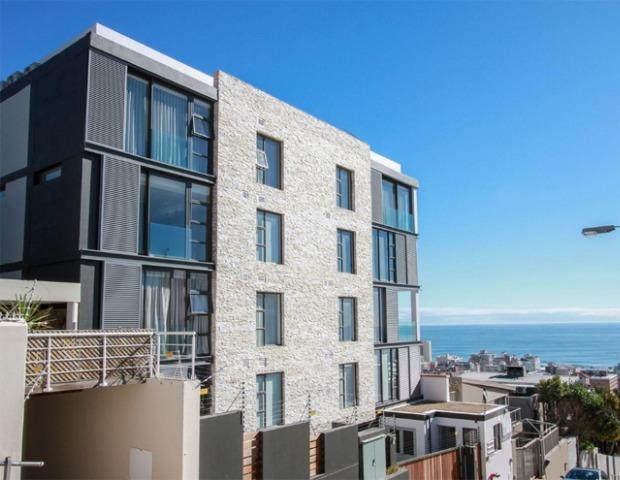 Even in
Cape Town's
sought-after
Atlantic Seaboard
suburbs, there's a trend to "buy for less". This modern apartment in
Sea Point
, Cape Town, has ocean views and secure parking. It is on the market for R3.495 million -
click here
to view.
Three experts give their opinion:
1. The car market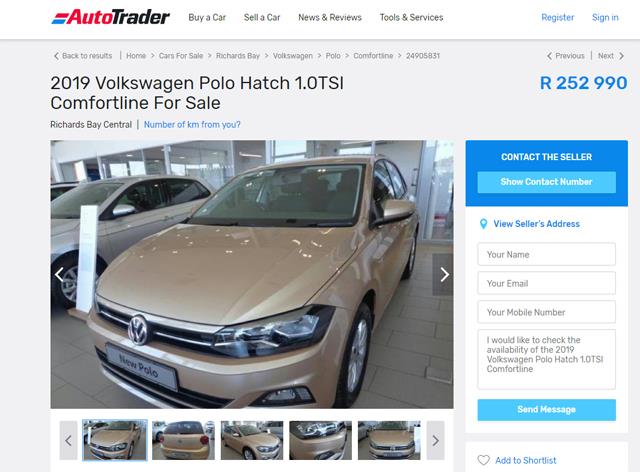 The most searched for car is the
Volkswagen Polo
, a more moderate choice than previous years, indicating the tendency to play it safe and "buy down".
"Motorists are searching for more affordable cars, as they face tough economic times," says George Mienie. This much has emerged from an analysis of search data on South Africa's largest motoring marketplace, AutoTrader.
"Whereas South Africans used to search for the BMW 3 Series and Mercedes-Benz C-Class, the most searched-for vehicle in the first quarter of 2019 was the more affordable Volkswagen Polo," points out.
In 2017, the BMW 3 Series was the most searched-for car while this honour went to the Mercedes-Benz C-Class in 2018.
According to Mienie, this is an indication that motorists are "tightening their proverbial belts".
"A new BMW 3 Series is priced from R649 000, pricing for a new Mercedes-Benz C-Class starts at R612 668 while pricing for the new Volkswagen Polo kicks off at a mere R249 900. Motorists are halving their spending – at best," he reveals.
Mienie says the search patterns of motorists are an indication of consumer confidence and a reflection on the higher fuel price. "While it isn't necessarily true that a big car consumes more fuel - as there are larger vehicles that are incredibly economical - the perception nonetheless remains, that small means lighter on fuel," he says.
Looking ahead to the rest of 2019, Mienie anticipates that the trend to buy-down will continue.
So, how does this "buy-down trend" play out in to the property market?
Residential property
Home buyers are looking for value-for-money, smaller homes in the current market. This two bedroom, two bathroom in
Kyalami Hills
,
Midrand
in
Gauteng
, is selling for R1.3 million -
click here
to view.
There has been a general slow-down in sales in the upper end of the property market as people look to contain their expenses and exposure in view of the general economic slow-down, says the Seeff Property Group.
In most areas of Gauteng, for example, sales above R5 million have slowed with very few high value sales above the R20 million price band in the upper end of Johannesburg and Sandton over the last year, according to Samuel Seeff, chairman of the group.
The top end of the Atlantic Seaboard in Cape Town has also slowed dramatically with a notable decline in sectional title sales above R8 million and full title above R18 million.
Ross Levin, director for Seeff Atlantic Seaboard, Waterfront and City Bowl, confirms that people are not buying up in the areas right now, but there is a trend of consolidation where property owners are buying for less and then perhaps taking some of their money offshore.
It has been largely apartments and more compact homes seeing good demand in areas such as Vredehoek in the City Bowl and Sea Point on the Atlantic Seaboard, for example.
There have been very few high profile sales in the top end suburbs such as Clifton, Camps Bay, Bantry Bay and Fresnaye.
Generally speaking, there has not been much selling due to upgrading and investment into second and holiday homes over the past 18 months, says Seeff.
"Overall, people are looking for more value for their money, and while bricks and mortar investments will always be preferred, people are buying for less rather than for more right now."
This has in turn allowed many middle-income areas to continue trading well despite the economic slow-down. This has also boosted demand for more compact housing with the sectional title sector generally seeing better trade across most areas, says Seeff.
Commercial property
"Although there has been good movement in the industrial market, overall the commercial market has remained relatively flat," says James Matthews, commercial property specialist at Shiny Rock Properties in Johannesburg.
"While many have been hedging their bets on the 2019 elections as an indicator of an uptick in activity, things are not really going to change for a while," he says.
"Many companies are resisting committing to any major decisions regarding their commercial property needs," says Matthews. "Businesses in general are looking towards making decisions that make their property requirements more efficient; those that ultimately save money on their new lease agreements or purchasing decisions."
In this market, brokerages have to work much harder and smarter to find money-saving deals, he adds. "We wait to see whether South Africa finds more stability before confidence returns to this market."