There are several clear indicators that the increased optimism in the South African property market reported on by most of the country's major estate agencies since the demise of Zuma and the installation of Ramaphosa as ANC leader is particularly evident in Hout Bay.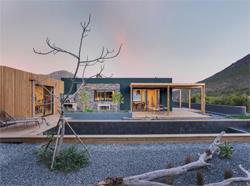 This unique eco friendly beach house has wraparound outdoor living with a lap pool, surrounded by wooden decks and a water-wise garden. It is priced at R10.55 million -
click here
to view.
This is according to Arlene Weinstein, agent at Cape Waterfront Estates in the Hout Bay area, who says towards the end of last year, attendance numbers at show houses had dropped to an exceptionally low level and the market was almost stagnant, with prices down on the figures achieved previously. This year, especially recently, she says they've been seeing a satisfactory increase in the number of show house visitors and the number of enquiries has tripled.
"It appears that the negative sentiment of 2017 is a thing of the past and sellers are now once again refusing to accept low offers," says Weinstein.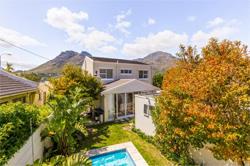 This stylish four bedroom home in central Hout Bay has a great indoor-outdoor flow, new guest bedroom en suite and good security. It is selling for R3.495 million -
click here
to view.
What's encouraging, she says, is the number of enquiries from foreigners, especially from Germans, Swiss, British and Chinese visitors, which have risen significantly. "These potential buyers are serious, not just 'testing the water'."
She says there is, in particular, a renewed interest in the R8 million to R15 million price bracket.
Nevertheless, Weinstein says the vast majority of houses for sale in Hout Bay are priced at R3 million and right now she estimates that there are 240 homes, apartments and plots on the market, with 100 new opportunities coming on stream in new developments such as the Kerzner Leeuwkoppie Estate (±50), Nooitgedacht (20) and Applegarth (30).
This five bedroom home in Berg en Dal estate has a terraced, irrigated and indigenous garden with large sheltered pool. It is on the market for R7.9 million -
click here
to view.
"These new security estates, following on the many already established, such as Kenrock, Hanging Meadows, Bokkemanskloof, Avignon, Constantia Nek, Berg en Dal and Sea Glades, will reinforce and complement the perception that Hout Bay is increasingly prestigious and sought after. Average prices are, therefore, bound to rise," says Weinstein.
The severe water restrictions, she adds, have had no noticeable effect on sales because buyers realise that they apply across the Greater Cape Town area – and many of the estates have their own water supplies in the form of boreholes and storage dams.
Weinstein predicts that 2018 will be a good year for Hout Bay property, with sales rising perhaps as much as 25%.