Lighting up your outdoor spaces makes the area attractive and liveable - making it safer to use and extending the enjoyment thereof well after the sun sets.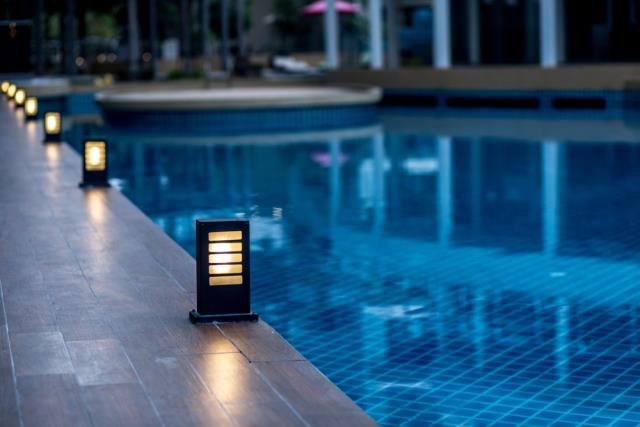 Once you have decided how the space will be used, you can start versing yourself on the various types of outdoor lighting, and how they can be used to achieve your goal.
"Whether you are adding lighting to your outdoor spaces for practical, security, landscaping, or aesthetic reasons - lighting has a tendency to transform outdoor spaces in a very positive way - making them more attractive, usable, welcoming and practical spaces to be in," says Melissa Davidson from lighting supplier, The Lighting Warehouse.
When deciding on your outdoor lighting, it is imperative that you understand how lights can integrate and complement a building and its grounds, says Davidson. "If you fully comprehend the play between light and dark, you can use contrast and shadows to create really interesting and attractive outdoor spaces," she says.
So, where do you start? Davidson says the most important thing to establish is your primary design goal: "You need to decide how the space will be used, and then you will be able to define how lighting can be implemented to achieve that goal. Do you want to make the space more usable, more secure, more attractive, or do you just want to highlight features that are currently hidden in the dark?"
"Once you have decided how the space will be used, you can start versing yourself on the various types of outdoor lighting, and how they can be used to achieve your goal. Next, you will need to get a grasp on the different types of outdoor fixtures that are available to you."
Types of outdoor lighting
As with any successful lighting design, whether indoors or outdoors, the lighting should be installed in layers - comprising various layers that can be operated independently from one another, and that perform specific functions.
Davidson explains that there are four main types of lighting, including:
1. Task lighting
Task lighting is arguably the most important type of lighting, as it is all about functionality and aiding with specific tasks. With regards to outdoor lighting, task lighting includes the likes of pathway, deck and stair lighting for example.
2. Ambient lighting
Also known as general lighting, ambient lighting offers illumination for an overall area. It should radiate at a comfortable level of brightness, without being too bright or too dull. Outdoor ambient lighting could comprise wall, post, pendant lights, and bollards for example.
3. Accent lighting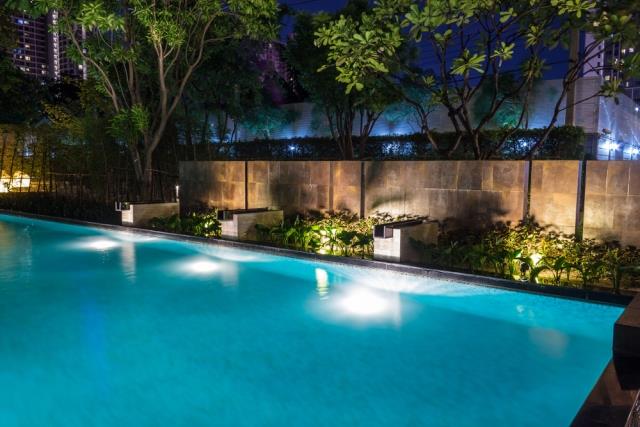 This type of lighting is used to heighten drama and add visual appeal to a specific area by creating added interest. It is used to highlight specific feature areas or items, such as walkways, doorways, hardscaping and landscaping elements. It can be used to great effect for illuminating things such as trees, attractive plants, architectural features, sculptures, ponds and pools for example. Accent lighting comprises mainly spotlights.
4. Security lighting
Adding lighting to your outdoor areas can go a long way to boosting the security of your home by warding off potential intruders or burglars. Security lighting comprises products such as LED motion-sensor lights, LED day/night sensor lights, and ultra-powerful LED floodlights including solar.
Ratings and energy efficiency
By law in South Africa, all outdoor lights need to be designed for installation in a damp location if partially covered, or in a wet location if exposed to the elements, says Davidson.
IP (ingress protection) rated fixtures are designed according to the level of potential moisture, damp or wetness. Water and electricity are obviously not a good combination and can be extremely dangerous. A low IP rating of 20 for example, would apply to a fitting such as a bedroom or lounge ceiling light. An IP rating of 44 would apply to a bathroom ceiling light. An IP rating of 65 would apply to a splash-proof light fitting such as an outdoor wall light; whereas an IP rating of 67 would apply to a garden spike installed in the soil where there is rain and irrigation.
She says a submersible light fitting, like a pool or pond light for example, would have to have an IP rating of 68. Always check the box or packaging for these ratings and choose accordingly.
"With the high cost of electricity, it is always best to opt for the most energy efficient form of outdoor lighting available: "LEDs are the way to go - they offer unparalleled longevity, are available in a variety of wattages, shapes and sizes, and provide great illumination. They also require far less energy than any of their counterparts -making them a great eco-friendly energy-efficient choice that will save you lots of money on your utility bills during their lifetime," says Davidson.
Different types of lighting fixtures
Like their indoor counterparts, outdoor lighting fixtures are available in a wide variety of different shapes, forms and styles - ensuring that there is something out there to suit every conceivable decorating and design scheme.
According to Davidson, here's an overview on the main types of lighting fixtures on the market:
Ceiling and hanging lights
These lights are generally used to provide ambient lighting for covered patios. Since they are undercover, they only need to be suitable for damp areas and damp-rated. They are available in a wide range of styles, and most often, their design will also provide an aesthetically attractive focal feature.