There was a time when homes were built with lots of separate rooms, all with their own individual purpose and none encroaching on the other. In recent years, there has been a total backlash towards this layout, with open-plan spaces becoming one of the most sought-after features of a home.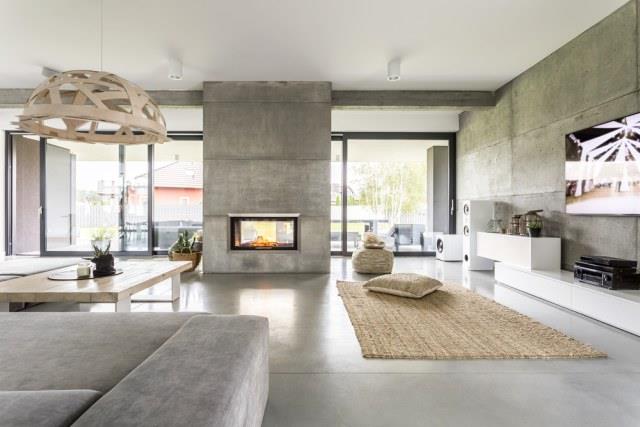 However, more and more people have begun to realise that while open-plan homes may look great and come with obvious benefits such as more light, the ability to to socialise with guests while cooking or keeping an eye on the kids, and a 'lesser sense of enclosure' in smaller homes, there are also some downsides. These include cooking smells wafting into living spaces, nowhere to hide while your cooking turns to chaos and noise that transmits easily around the house.
Open-plan spaces also lack a sense of intimacy and cosiness. Fortunately, all these problems can be easily overcome through clever design, and you can enjoy the best of both worlds. Even if you dream of a totally open-plan space, to work well, the layout has to have some division, be it visual or physical.
1. Dividing open-plan spaces
There are several ways to create room dividers. One of the most commonly used methods is seen in kitchen diners, where breakfast bars or island units are used not only for extra storage and as a spot to eat and work, but also as a way to keep the living room and kitchen separate.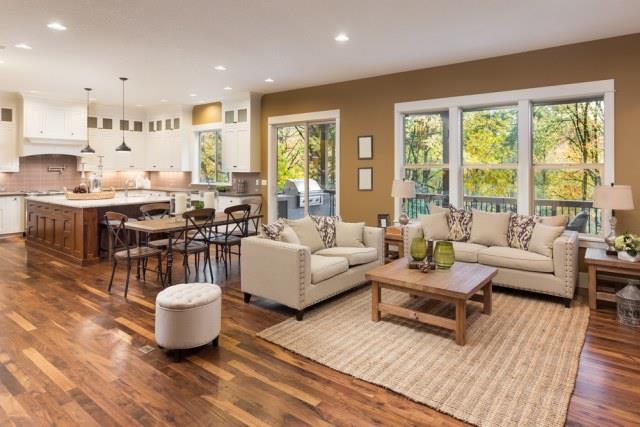 Within other open-plan areas, constructing partial walls is the ideal way to maintain a sense of flow, while creating zones. Partition or drywalls are a simple way to create partial divides, consisting of a frame built from timber battens, covered in plasterboard and finished with plaster. They can be as high or wide as you wish, perhaps spanning half a room at half the wall height.
Storage units are another great way of creating partitions while serving a useful purpose in solving the problem of a lack of space for shelving. Units are also a flexible option, particularly those on castors, as they can be rearranged or pushed out of the way should the need arise.
A popular trend right now is to use central fireplaces as space dividers. They work especially well when positioned between living rooms and dining halls, and bring a sense of homeliness which is often needed in open-plan layouts, while allowing light to flow. They should be planned at the design stage of a build. Freestanding stoves work in a similar manner and look great in modern schemes.
2. Flooring variation
A simple way of breaking up spaces is to use a variety of flooring materials. Using stone flooring in the kitchen then swapping to timber floors in the dining space, for example, will define the two areas without a physical divide.
Similarly, using carpet or natural flooring in a living area to separate it from the more practical choice of hard flooring in a dining or food preparation area, sets out the living space as somewhere to kick back and relax.
Always ensure floor levels are set out so that the changes in flooring material lie flush with each other.
3. Floor and ceiling Levels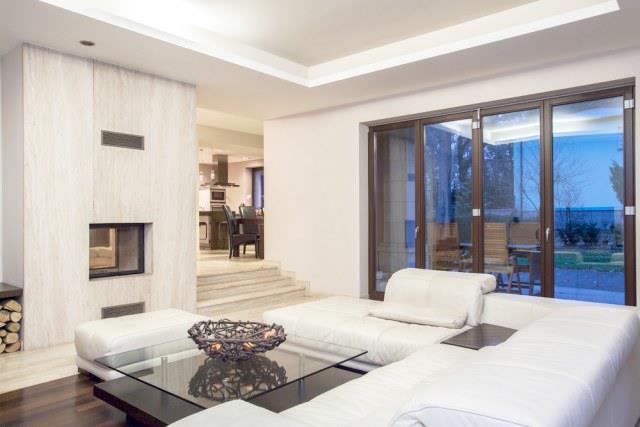 Using a split-level layout is an ideal way to ensure that open-plan spaces can be organised into zones. Living spaces that can be accessed by two or three steps from the kitchen diner, for example, clearly stand out as a relaxing area, without being shut off completely.
Varying ceiling levels are a good idea too. Using a slightly lower ceiling height in a dining room to that in a kitchen will create an intimate feel.
The use of beams and bulkheads can also be employed to indicate a change in use from area to area. This is a practical method that renovators can use to open up a number of small rooms to one another, as steel beams are usually required as a means of support.
4. Cladding
A change in wall cladding can work wonders in dividing spaces up. Choices include using paint, texture, fabric or photo printed wallpaper, timber tongue and groove cladding. Sumptuous wallpapers also work well to define spaces.
Plaster finishes look great and draw attention to a specific area of an open plan space.
5. Using lighting
Designing your lighting to visually separate various areas can work really well. A good example of this is using down lights in the kitchen, then hanging either a statement pendant or running three pendants low over a dining table to set it apart as a gathering point.
Use obvious sources of light such as spotlights and wall washers in areas where activities take place, then swap to intimate lamps or uplighters for restful areas. Using light insets in the floor or along the bottom of walls provides a divide between spaces, while fitting uplighters beneath a central fireplace will highlight it as a divide.
Article courtesy of
www.home-dzine.co.za
.