Demand in the quiet, family-friendly northern Johannesburg suburb of Glenhazel remains robust, with many families choosing to call the suburb home.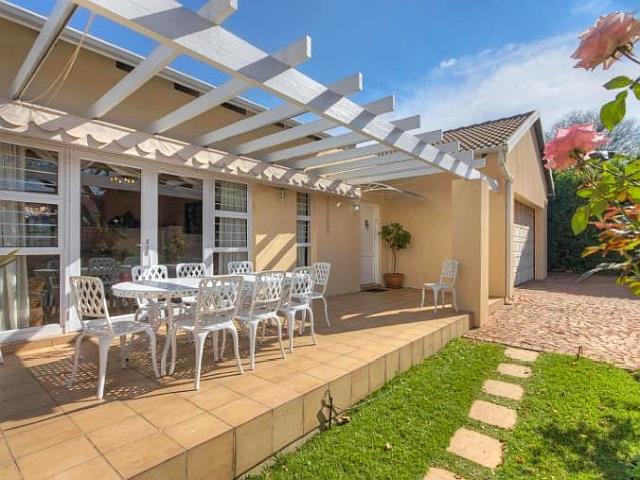 This home in Glenhazel, Johannesburg, has two en-suite bedrooms, a study, two garages, patio and private garden. It is on the market for R2.99 million -
click here
to view.
Adrienne Hersch Properties area specialists Gregory Isaacman and Lorraine Veco attribute this demand to the area's central location close to major amenities, schools and transport routes, generous amounts of green spaces, and strong community focus.
"It is so close to everything, yet it feels like a village. Families are attracted to its good schools, restaurants and shops and tight-knit community feel," says Isaacman.
Glenhazel is well known for being the kosher hub of Johannesburg and benefits from a diverse selection of kosher supermarkets, cafés, butcheries and restaurants.
"The area has truly emerged as the epicentre of Johannesburg's Jewish community and caters to every need, from places of worship to schools, shops, restaurants, community centres and businesses. The suburb has become the logical choice for young Jewish families seeking to bring up their children in the heart of the community," says Isaacman.
This four bedroom, two-and-a-half bathroom home in Glenhazel, Johannesburg, is in a small complex and has a patio with gas braai, low-maintenance garden, double automated garage, storeroom and staff quarters. It is selling for R3.599 million -
click here
to view.
Veco says the suburb is experiencing fresh demand from a younger demographic of buyers, chiefly starter families looking to put down roots. This trend is further highlighted by recent Lightstone figures which show that 34% of recent buyers in the area are between 18 and 35. She says this demographic of buyers are chiefly seeking sectional title properties or starter homes.
"Many of these buyers are seeking lock-up and go units that they can ultimately retain as investments or older fixer-uppers that they can purchase at a cheaper price and ultimately renovate into their forever family home."
Buyers can expect to pay between R850 000 and R1.2 million for a one bedroom apartment in the suburb. Two bedroom apartments are selling for between R1.2 million and R1.8 million, while a three bedroom townhouse or apartment can fetch between R1.5 million and R2.8 million. A three bedroom freestanding home will cost between R2.2 million and R4 million, while a four bedroom home can set buyers back between R2.5 million and R5 million.
This home in Glenhazel, Johannesburg, has four bedrooms, two-and-a-half bathrooms, study, home office, pool, storeroom, double automated garage and more. It is on the market for R2.299 million -
click here
to view.
Isaacman says an interesting trend is that a large number of people are selling their homes to leave the country.
"Well over 60% of homes we're selling in the area are due to people moving to Israel. This can be attributed to the volatile economy and unstable political climate."
The agents say the area remains quite pricey for many buyers getting on the property ladder or buying their first family home, forcing them to fan out to more affordable areas nearby.
"Due to its reputation and amenities, Glenhazel remains more expensive than neighbouring Sandringham, Fairmount, Highlands North, Percelia and Sydenham. We're finding that many young couples and families who cannot afford to buy in Glenhazel are choosing to settle in nearby fringe suburbs."