This friendly city with a big heart is one of the most affordable places to live in South Africa, which could explain why many people are choosing to buy property in Port Elizabeth.
The beaches are pristine and the laid-back city living and affordable property prices make Port Elizabeth ideal for young families and retirees wanting to scale down.
Better quality of life
For Johnny Havenga, scaling down was top of his mind when he retired. "I realised that the house I was living in had become too big, so I started looking around in PE," he says. Then he came across a display for the Westbrook lifestyle estate while shopping at Baywest Mall. "I immediately sold our house and bought a home there," he shares.
The house he lives in is at The Ridge, which is the first of nine residential villages that will make up the new suburb of Westbrook, a 128-hectare hectare mega-estate on the western edge of PE. "This is an extremely safe and upmarket neighbourhood with a lot of potential," he says, mentioning the Curro School situated within the estate that currently offers Grade 1-9, with plans to introduce classes up to Grade 12 in the near future. His move has even prompted his daughter to buy a house nearby. "She saw how happy we were and now she and her husband are living practically next door to me."
Multi-generational living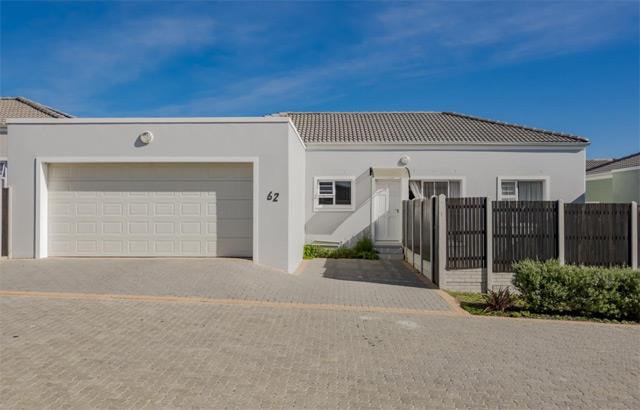 This home in Westbrook, Port Elizabeth, has three bedrooms, two bathrooms, modern finishes and is pet friendly. It is on the market for R1.285 million -
click here
to view.
This multi-generational appeal is what makes living in PE so unique. "The city suits first-time buyers who want to enjoy a relaxed, coastal lifestyle at a fraction of the cost of other big metro cities," says Clifford Oosthuizen, MD of Westbrook. "The estate is perfect for retirees who are looking for a smaller home and a more laid-back lifestyle, as well as young families who are drawn to the area because property here is so affordable."
PE has a lot going for it. There are a number of top-rated schools, including Grey and Collegiate Colleges, Sunridge, Greenwood and Clarendon Park Primary. The beaches are pristine and water sports are available all year round, with the annual Iron Man event drawing huge crowds.
While the city recorded its most expensive property sale last year of R16 million, there are still plenty of bargains to be found, says Oosthuizen.
The city has also experienced an explosion on the culinary front, with many new eateries opening over the past few years. Hot spots for foodies include the Food Studio, Savage's Fine Food and Grass Roof.
Oosthuizen says PE offers great value to investors and homeowners alike. "According to annual Lightstone sales figures, the most popular property type is freestanding houses, followed by townhouses and homes in estates," he says. "Whether you're buying a home to live in or as an investment, house price growth in PE is at a very impressive 6.9%, which is higher than Gauteng (4.4%) and only slightly lower than Cape Town (9.3%)."
Capital growth within Westbrook is currently sitting at 10%, he adds.
Buying to rent
This three bedroom, two bathroom home in Westbrook, Port Elizabeth, is in a secure estate and close to a Curro school. It is selling at R1.45 million -
click here
to view.
For property investors, there are compelling reasons to choose the friendly city. "PE boasts all the big-city amenities at rental prices that are considerably lower than other metros in the country," says Oosthuizen. "Added to this is the fact that we've seen phenomenal growth in property values over the past 10 years."
The average price of a freehold property in PE, for example, has surged by 44% from R690 000 in 2008 to over R1 million in 2018, he says.
Given the high level of demand for rental property, along with the rise in property values, it's no wonder that so many investors are drawn to PE. Business initiatives like the nearby Coega Industrial Development Zone and government incentives introduced by the Nelson Mandela Bay Municipality are also helping to boost the area's popularity.
Oosthuizen believes that while the city recorded its most expensive property sale last year of R16 million, there are still plenty of bargains to be found. "PE has a property to suit every taste and budget," he adds.