The residential market in Cape Town's picturesque Harfield Village in Claremont, renowned for its quaint historic cottages, quiet leafy streets and vibrant business hub, has demonstrated notable resilience this year, with an increase in sales volumes and only a slight dip in the average house price.
On the corner of Lancaster Road and Second Avenue in Cape Town's Harfield Village, this highly-visible commercial property currently houses a dentist practice. It has a reception room, three plumbed offices, a courtyard and large garage. It is on the market for R2 217 391 -
click here
to view.
According to Propstats data, 34 houses at an average sale price of R2.5 million were sold in the suburb during the first 10 months of 2018, compared to 28 sales averaging R2.68 million during the same period last year.
"This popular Southern Suburbs enclave has enjoyed a buoyant market over the past eight years, with the average sale price of houses increasing steadily since 2010 when the year closed on R1.4 million," says Arnold Maritz, Southern Suburbs co-principal for Lew Geffen Sotheby's International Realty.
"Property values continued on their upward trajectory, and by 2013 the average house price had risen to R1.7 million, jumping to R2.3 million in 2015 and, despite marginally lower sales this year due to the economic downturn, the average house price at the end of the second quarter of 2016 was R2.64 million."
Last year it nudged up to R2.68 million, only succumbing to market pressure this year with a 6.7% dip to R2.5 million by October.
Marc Plastow and Mitchell Mckenzie, Area Specialists for the agency, attribute the market's buoyancy to a number of factors, including the suburb's location, its compact size and age of properties, which have contributed to prices remaining competitive in a high-value area.
"Accessible pricing, a vibrant village atmosphere and the convenience of having all the essential amenities right on their doorstep are compelling drawcards for first-time buyers and young investors who accounted for 39% of all recent buyers during the last 12 months to date," say the agents.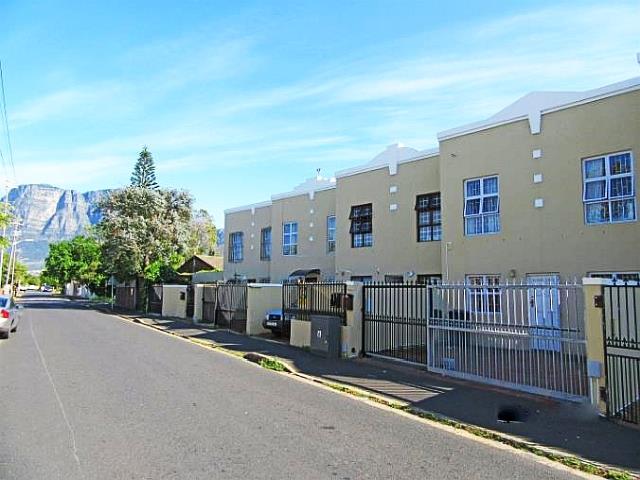 This 134sqm townhouse in Harfield Village has three bedrooms, three bathrooms and two secure parking spaces. The home is close to shops, and was on the market for R1.995 million.
"Most sought after are properties with low monthly rates and expenses in the R2 million to R2.5 million price range. Freehold homes remain the most popular, however, in the current market climate we are seeing an increase in demand for sectional title units as a growing number of people look to downsize and reduce monthly costs."
Although the suburb still comprises 80% freehold properties, the sectional title market is gaining ground, with a brand new 28-unit complex called The Wentworth planned for Wessels Road.
According to the duo, properties priced up to R2.4 million are still selling within a few weeks of going to market, with homes priced below R1.5 million guaranteed to be snapped up. However, homes for up to R3 million can now take up to three months to sell, and a few of the properties above the R3 million mark have already been on the market for more than six months.
Sales of well-priced properties have also been spurred by the strong rental market which has attracted investment buyers to the area.
"Investment buying is always present in the market, and as currently rentals in the suburb are still rather high on average, tenants are able to negotiate on rental price," say Plastow and McKenzie.
They add that they have also noticed an increase in the number of homeowners who choose to renovate their homes when their needs change rather than sell up and move as they realise that it would be difficult to match value and lifestyle in most comparable neighbourhoods.
"Residents love the fact that they can just stroll down the road to meet friends for coffee or enjoy a meal at one of several great restaurants, and it's not surprising that Lightstone data reveals that almost 50% of the current homeowners have lived in their properties for 11 years or longer," say the agents.
"And with fibre cabling being installed throughout the village, it now offers residents everything they need daily with all other amenities only a stone's throw away in Claremont."