In 2017, the only Cape Town City Bowl suburb to see a decline in sectional title prices was Vredehoek, where the average selling price dropped from R2.84 million in 2016 to R2.7 million - but this year the market rallied, with a 21.48% increase in the average sale price which reached R3.28 million by the end of August this year.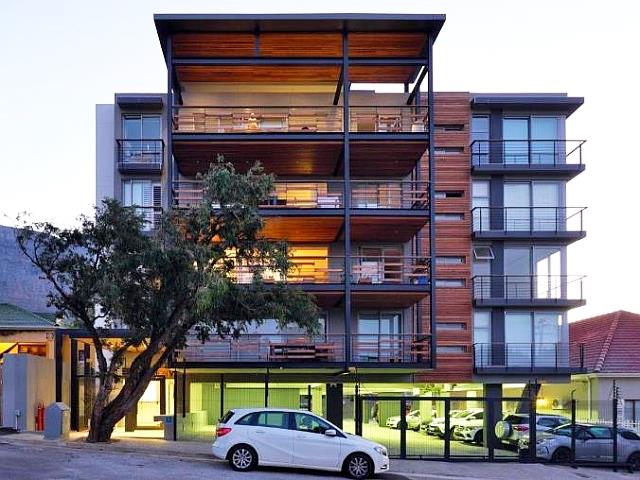 This 116sqm two bedroom, two bathroom apartment in 58OnV, a new development in Vredehoek is on the market for R5.795 million -
click here
to view.
Costa Psomas, Area Specialist for Lew Geffen Sotheby's International Realty, attributes this largely to the recent completion of a number of new sectional title developments, including mixed-use blocks with commercial components.
"Apartments generally offer a more accessible entry price point into this sought-after market, and for a number of years demand has been outstripping supply so most of the new releases have been quickly snapped up," says Psomas.
"Last year, the average time an apartment spent on the market was a mere 33 days, with the average sale price being 6.1% below asking price, and this year, the time flats spent on the market has remained unchanged, but the gap between asking and selling price has shrunk to 5.1%, despite the subdued economy."
There were 71 apartment sales in Vredehoek in 2017, and this year there were 43 transactions by the end of August, including seven units in The Bradwell, one of the brand new developments in the vibrant heart of Vredehoek.
According to Brendan Miller, CEO of Lew Geffen Sotheby's International Realty on the Atlantic Seaboard and City Bowl, the mountainside suburb has eclipsed the 2017 City Bowl sectional title star.
"Propstats data reveals that in 2017, Gardens recorded the highest growth in apartment prices, which grew by a whopping 38% from R2.42 million the previous year to R3.34 million. This year, however, the average selling price has levelled off to R2.81 million."
This bright and modern apartment in Vredehoek,
Cape Town
, is on the top floor, and has one bedroom, one bathroom, a private entrance and views of Table Mountain. It is selling for R1.65 million -
click here
to view.
Miller adds that two other popular suburbs with little recent sectional title development also haven't fared as well this year, with average apartment prices in Oranjezicht and Tamboerskloof dropping from R3.26 million and R3.9 million in 2017 to R3.06 million and R2.87 million respectively by the end of August this year.
Psomas says that the properties that have been receiving the most interest are well-priced two bedroom flats, especially if semi-renovated, as well as off-plan development apartments where buyers save on transfer costs.
"Investors know exactly what they want and are far more price conscious and keen to negotiate. So, although homes in most sectors are taking a little longer to sell, realistically-priced properties, especially in the entry to mid-markets, will always find willing buyers. Homes priced above R9 million are the hardest to move, and many sellers are having to exercise patience."
He adds that two new developments due for completion in 2019 will meet the demand for affordable city accommodation by a growing number of young professional buyers, namely The Avalon in Gardens and The Iron Works in Woodstock, which is already 95% sold out.
In addition to the affordability challenge, the growing move toward low-maintenance and water-efficient properties has also spurred the sectional title market in the City Bowl.
"Throughout 2017 and until June this year, the water crisis increasingly impacted the house market, with consumers becoming progressively concerned about a looming Day Zero and cautious about buying homes with high-maintenance gardens and pools.
"And, despite the recent rainfall, Capetonians are now generally far more water-conscious, and we find buyers still tend towards water-efficient homes and low-maintenance gardens."
"Although these formidable markets were finally tempered by the prevailing political climate and increasingly subdued economy, demand has remained strong and, as prices continue to stabilise, the market will pick up, especially in the entry and mid-market sectors," says Miller.
"However, sellers must be realistic about their pricing expectations and understand that the market will take some time to recover after such a prolonged period of unprecedented growth."