On the back of two years of overwhelmingly successful TV ad campaigns, and with the fresh new-look website up and running, Property24 has launched their new My Perfect Home cross-platform advertising campaign.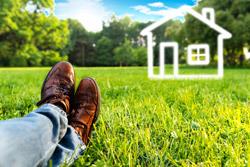 The campaign uses various platforms including TV, social and digital channels to explore what a home really means to people and asks South Africans what makes their perfect home.
JP Farinha, CEO of Property24, says, "We were inspired by the passion and emotion people show when they are house hunting, and more importantly, when they find their perfect home. The tools that we offer house hunters and the property industry as a whole are created with the purpose of making this process easier to navigate and ultimately more rewarding. This campaign brings the feeling of home together with technology and allows South Africans to share their experiences with us and the wider Property24 community."
Now Boarding, an innovative Cape Town-based design agency, worked alongside Property24 to create the dynamic and exciting concepts and executions that bring the campaign to life. Every aspect follows Property24's philosophy of embracing technology while keeping South Africans and their homes at the heart of it.
The TV ad takes viewers on a journey of finding the perfect home. It draws on the emotions that accompany searching for a new home while imagining the new life it offers, played out in the images of home that you first see on screen. It leaves viewers with a sense of comfort and calm, looking forward to the experience of house hunting on the new Property24.com website.
Michel Brink, Creative Director of Now Boarding, explains, "There's a feeling you get when you come across a property and realise you've found your perfect home. You simply know it's where you will create some of life's most treasured memories. We realised that being able to visualise how a property could suit your lifestyle can be one of the biggest contributing factors in a home buying decision and this understanding informed our designs for the Property24.com website and the My Perfect Home campaign."

The campaign is tied together by a soundtrack from one of South Africa's exciting up and coming new artists. Michael Lowman's Crayon Boxes enhances the campaign with its feel-good sound and perfect lyrics, "All you need is love, and a place to call home."
"We are very proud to be supporting local music," says Farinha. "Michael's talent deserves to go far and we are excited to be exposing his sound to even more South Africans through our campaign."
Property24 and Now Boarding have creatively brought all these platforms together to create a cohesive and integrated campaign with a sense of home and belonging that resonates strongly with all South Africans.