Waterfall Management Company has been received the Best Mixed-use Development in South Africa 2019/2020 award for the Waterfall development in Midrand, Gauteng. In addition to garnering this accolade for the sixth consecutive year, the company also received an award for Mixed-use Architecture in South Africa for the first time.
This stand of 1 312sqm for sale in Waterfall Country
Lifestyle Estate
, Midrand, is close to the Mall of Africa and offers estate facilities that include walking and biking trails, kids' play areas, tennis and more. It is priced at R3.185 million -
click here
to view.
Since 2004, Waterfall Management Company has been working with developers and investors to create the largest mixed-use development in Africa. The 2 200 hectare leasehold development in the heart of Gauteng, offers integrated, fibre-ready live-work-play environments in a vibrant urban space.
Ultimately, the development will combine around 24 000 residential units that will eventually house an estimated 80 000 people, with approximately 2.5 million square metres of gross leasable area (GLA) for commercial and office space, that will accommodate a further 80 000 people.
The South African company collected these distinctions at the International Property Awards – Africa and Arabia Chapter gala dinner, held at the 5-star London Marriott Hotel, Grosvenor Square on 12 June 2019.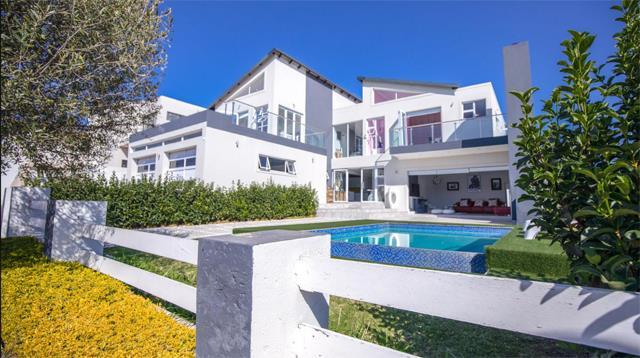 This designer home in Waterfall Village Estate, Midrand, has four bedrooms, four bathrooms, gourmet kitchen, open-plan living, pool and more. It is selling for R6.199 million -
click here
to view.
The International Property Awards are open to residential and commercial property professionals from around the world. Now in their 27th year, these awards celebrate the highest levels of achievement by companies operating in all sectors of the property and real estate industry. Judging focuses on design, quality, service, innovation, originality, and commitment to sustainability. An International Property Award is a world-renowned mark of excellence.
Further to these awards and recognition, Waterfall was also nominated for Best Mixed-use Development in Africa. The highest scoring, five-star winners from each category in Africa, will automatically be put forward for re-judging against the five-star winners from Asia Pacific, Arabia, Europe, USA and the Americas, as well as the UK.
Once the re-assessment has taken place, the 2019 International winners in each category will be acknowledged as the 'World's Best'. These winners will be announced at an awards ceremony in London on 2 December 2019.
The Polofields development in Waterfall, Midrand, offers luxuirious apartment living and a signature Lifestyle Centre with prices from R2 099 900 to R2 439 900 -
click here
to view.
Last year, Waterfall not only won Best Mixed-use Development in Africa for the fifth year running, but also received the top honours for the second year in a row, when named Best International Mixed-use Development 2018/2019.
Willie Vos, CEO of Waterfall Management Company, says: "As a team of property professionals who are not only dedicated to the continued sustainable development of Waterfall, but to the positive impact this development is bringing to the economy, we are of course ecstatic about these achievements. Receiving this international recognition every year emphasises just how world-class Waterfall is, and we hope to continue to achieve these awards as Waterfall continues to unfold towards completion."