Johannesburg Stock Exchange (JSE) listed property loan stock company Vukile Property Fund posted a 6.1 percent increase in annual distribution.
The company declared and paid an early distribution of 70.5 cents per unit for the second half of the year in April 2012.
In total, the distribution for the full year was 124.81 cents per unit representing growth of 6.1 percent for the full year.
Laurence Rapp, chief executive officer of Vukile, says the early distribution was done to avoid any dilution that would have resulted through the issue of linked units required to partially fund the R1.5 billion acquisition of a portfolio of 20 properties from Sanlam, which was concluded in April 2012.
Vukile listed on the JSE in June 2004 and on the Namibian Stock Exchange in July 2007.
The fund has a market capitalisation of R6.6 billion.
Rapp explains that the 6.1 percent growth in distribution makes the fund one of the most luquid traded funds and its free-float index weighting increased from 59 to 100 percent.
He says despite tough trading conditions, Vukile performed well, living up to its name loosely translated to mean 'awaken'.
"Property as an asset class is a sound investment and the fund has great prospects and potential to grow."
Property portfolio
Vukile has 72 properties with a total gross lettable area (GLA) of 922 221 square metres valued at R6 113 billion.
The average value per property in the portfolio is R85 million.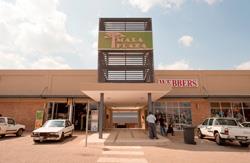 Its portfolio comprises offcies, retail and industrial properties and these are spread across the country.
When looking at geographic property profile in GLA terms, the four regions account for 85 percent of the fund exposure while 15 percent of the properties are located in other regions.
The top four regions accounting for 85 percent include Gauteng (55 percent), KwaZulu-Natal (17 percent), Namibia (7 percent) and the Western Cape (6 percent).
The 15 percent is made up of the Free State (4 percent), Limpopo (4 percent), Mpumalanga (3 percent), Northwest (2 percent), Northern Cape (1 percent) and Eastern Cape (1 percent).
Vukile's 10 largest properties are:
1. Durban Phoenix Plaza valued at R495.4 million (24 342 square metres)
2. Belville Louis Leipoldt Hospital in Cape Town valued at R287.8 million (22 311 sqaure metres)
3.Dobsonville Shopping Centre in Soweto valued at R229.4 million (23 177 square metres)
4.Pine Crest (50 percent) in Pinetown valued at R204.1 million (20 072 square metres)
5. Durban Embassy in KwaZulu-Natal valued at R202.8 million (32 346 square metres)
6.Oshakati Shopping Centre in Namibia valued at R190.6 million (22 269 square metres)
7. Daveyton Shopping Centre in Ekurhuleni valued at R182.5 million (17 095 square metres)
8. Arivia.kom Building in Midrand valued at R169.3 million (15 634 square metres)
9.Roodepoort Hillfox Power Centre in the West Rand valued at R150.1 million (37 440 square metres)
10. Randburg Square in Randburg Johannesburg valued at R150.1 million (50 945 square metres)
Rapp says vacancies were well contained at 6.8 percent as a percentage of gross rentals (2011: 5.9 percent), decreasing to 5.9 percent if development vacancies were excluded.
The development vacancies are mostly situated in Randburg Square, where a major refurbishment of the shopping centre is taking place.
New leases and renewals of 202 129 square metres with a contract value of R579.5 million were concluded during the year and 74 percent of leases that expired during the year were renewed or are in the process of being renewed (2011: 82 percent).
He expects trading conditions to continue to remain challenging in the year ahead and Vukile's retail centres to continue to perform well.
Acquisitions and disposals
Rapp says Vukile acquired 20 properties from Sanlam for R1.5 billion adding 25 percent to the fund's portfolio size.
"This acquisition was the initial step of the company's new strategy to be more acquisitive and proactive and will also provide it with further scope for growth."
Vukile sold five properties between June 2011 and May 2012 to the total value of R53 million. These include the Benoni Kleinfontein Offices, AAD Goodwood (industrial), Botbyl Subaru Building Hatfield, Oshakati Bearers Furniture and Johannesburg John Griffen.
Properties held for sale include the Johannesburg Glencairn Building (offices), Johannesburg Truworths Building (retail/offcies), Pretoria VWL Building (offices), Nelspruit Prorom Building (offices), Katima Mulilo Pep Stores (retail), Rundu Elleries (retail), Pretoria Midtwon Building (offices) and Lichtenburg Shopping Centre (retail).
Rapp says they are looking to improve the quality and exposure of office and industrial assets.
Its offices are mainly comprised of B plus grade and if they have the opportunity, they would like to upgrade this, he says.
He says retail should continue to perform well with strong tenant demand.
"Underlying property fundamentals are generally positive, but concerns still exist with rising electrical and municipal costs."
Upgrades and priorities
In 2011, Vukile completed three projects including Mala Plaza in Limpopo (extension and upgrade), Grosvenor Crossing in Bryanston Johannesburg (upgrade) and Hillfox Value Centre (new premises for Cashbuild).
Projects approved include the upgrade and maintenance of Randburg Square (Phase 1) at a cost of R80.8 million and the total amount to be spent on the upgrade of this regional shopping centre is R207.5 million.
Upgrade of Medi Clinic at Belville Louis Leipoldt Hospital, upgrade of Hillfox Value Centre and redevelopment of ex-Standard Bank site at Oshakati Centre in Namibia.
Rapp says the revamp of Randburg Square will provide a dramatically improved shopping experience to the people of Randburg and visitors to the centre.
At completion, the projected market value for Randburg Square (offices included) will be R417 million or R8 118 per square metre.
The shopping centre will also consist of nearly 90 percent national tenants including Nedcor, Foschini, Truworths, Edcon, Ellerines, Mr Price, Pepcor and Woolworths.
He says 18 new stores will open at the centre to add to the retail mix and provide a wide selection to shoppers.
"We believe Randburg Square has tremendous potential and this revamp will not only bring a new shopping experince but will make it a valuable asset in the long run."
In the current year, Vukile will focus on growing its portfolio – with a new mall scheduled for completion in April 2013.
Hammersdale in KwaZulu-Natal is a 19 000 square metre mall costing R194 million.
He says they will also focus on minimising funding costs, invest in their people, look at transfomation in a more sustainable manner but will not rush the process, as well as optimise long- and short-term returns for unitholders.
Vukile is confident of again delivering reasonable growth in distributions in the next year, adds Rapp. – Denise Mhlanga