With three and four bedroom homes competitively priced in the region of R1.195 million to R2 million, a proliferation of good schools, shopping centres and easy access to all major routes in and around Durban, the treed suburb of Westville offers sound value for money and high appeal for family buyers.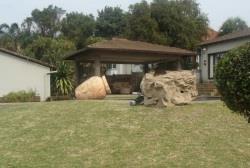 This is according to Mohammed Amra, Pam Golding Properties'(PGP) area principal in Westville, Pinetown, Port Shepstone and Harding, who says this leafy suburb has appeal for a broad cross section of home buyers. For these reasons, he says more and more residential property sales in the Westville area are primarily driven by relocating families, who choose this area because of its school reputations, prayer facilities or because they have taken up career opportunities in the vicinity or surrounds. This location is ideally suited for most commuters as it is within easy reach of freeways.
He says stands are generally large, averaging about 2 000 square metres and ranging from about 1 500 to 4 500 square metres, which is larger than many other areas. He says Westville has always maintained its prestigious status and encompasses all levels of homeowners from first-time buyers to large families and those semi-retiring or in complete retirement. There's always a spot for everyone, he says.
"Furthermore, this area is known for its beautiful foliage, birdlife and hidden nature reserves, and this attracts buyers from other areas. We have also seen various malls and gyms being built around the residential suburbs, which has further enhanced the growing needs of communities, making this locality sought after and adding value to property prices."
He says the residential property market in the area is gradually improving. Some areas are always highly in demand and banks are somewhat loosening their requirements, particularly for A grade clients.
According to Amra, they find within their portfolio of buyers that they are serious and have pre-determined their buying status. They either come with sizeable deposits or are pre-qualified by their own banks. A large number of buyers are looking at homes priced from R1 million to around R1.5 million, mainly in Westville north and the Dawncliffe/Cowies Hill areas where the properties have gardens with plenty of room for children and pets and most importantly, are close to schools.
"We're also starting to see a shortage of stock in two bedroom homes, which are exceedingly difficult to obtain in central Westville, and when we do get stock in this sector, it is in the upper Sherwood area and comprising predominantly simplexes and duplexes. Mostly with two bedrooms, they are approximately 76 square metres in size and start from R650 000 in price, ranging upwards."
Amra says one of the top agents operating in the Westville and Sherwood areas, Soraya Paruk, has been active in this domain and achieved successful sales. Sherwood is in great demand as it has a number of mosques and is a stone's throw from most amenities.
Central Westville is prime, but the term 'central' is something of an anomaly as some would consider the Jan Hofmeyr Road area and surrounds – with a mosque and Hindu School in the vicinity as ideally positioned, while others would consider the area in the vicinity of Westville Road which has Westville Girls' High School and a few shopping malls running through it as more well suited to their needs, he says.
At present, Amra says they are marketing a modern 225 square metre duplex in a convenient location in Westville, with easy access to Jan Hofmeyr Road. Priced at R1.85 million, this semi-detached home would suit a young, growing family or 'on the move' couple. Elegantly designed, it includes three comfortable bedrooms, two bathrooms and an attractive, recently renovated granite kitchen with spacious scullery. Fully tiled and with a sunken lounge, entrance hall, separate dining area and full staff quarters, it is located in a quiet suburb, he says.
Amra says at the top-end of the market, prices start from about R3.5 million for luxury five bedroom homes and can reach up to R15 million. Generally, these high-end homes have tennis courts, swimming pools, koi ponds, huge bedrooms, jacuzzi/sauna rooms, cater for a vast array of car parking and may even have two to three extra dwellings on the property.
"A few of the latter homes can be found in Cowies Hill and Rooikoppies and cater for specific buyers seeking such properties. Enquiries at the top-end of the market are brisk, with many cash buyers evident in the market."
There are seven shopping malls in the Westville area, namely The Pavilion, Westville Junction, Westville Mall, Spar Centre, Salamanca Centre, Westville Village Market and Elvira Centre, and no less than 24 schools, incorporating a range of pre-primary, primary and high schools – both public and private schools.