The recent drought in Cape Town, the reintroduction of load shedding by Eskom and rapidly escalating costs of electricity and water have made energy and resource efficient homes increasingly appealing to home buyers.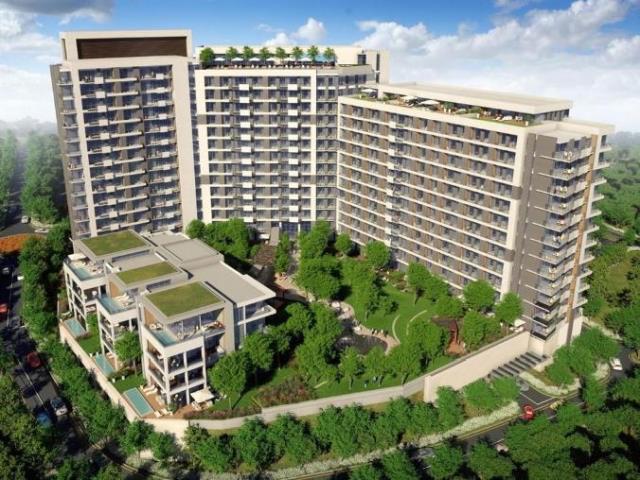 The Trilogy Collection, a development in
Menlyn
Maine,
Pretoria
, seamlessly integrates with the first green mini-city in the making and will offer apartments from R1.882 million to R17.571 million -
click here
to view.
This is according to Pam Golding Properties. In a recent survey conducted among their real estate agents, 70% of respondents estimated that homes with 'green' features such as solar, greywater systems, rainwater collection tanks, boreholes and water-wise gardens may command a price premium of approximately 5% to 10% over similar 'non-green' homes. The participating agents also said they are experiencing heightened interest from buyers in the green properties of a home.
"Nowhere is this trend towards homes with alternative, more efficient sources of energy and water more evident than in the Western Cape, where the recent prolonged drought has made water conservation a key imperative both now and into the future," says Anthony Stroebel, Pam Golding Properties head of real estate services and a director of the Green Building Council of South Africa (GBCSA).
"It has also underlined the additional value placed on these features, with many consumers doing their utmost to go partially off the grid, in some cases even entirely. Almost overnight it's become relatively commonplace in Cape Town to see lawns replaced with indigenous shrubbery and succulent gardens, as well as artificial grass, not to mention a proliferation of water storage tanks and rooftop solar panels."
Energy audit reveals detailed electricity usage
Stroebel says with rising utilities costs and an emphasis on sustainability, there is a major green revolution rapidly unfolding, and in support of a more sustainable future. Pam Golding Properties has partnered with Enel X, the multinational alternative energy company, to bring innovative power solutions to homeowners and home buyers via an energy audit. Initially this is being offered to selected suburbs in the Western Cape and Gauteng on a pilot basis, with a national rollout envisaged for next year.
"During the audit, energy inefficiencies in the home and intervention opportunities are identified. This consists of an on-site inspection coupled with the installation of data reading, on-site metering which then results in an energy profile on how to reduce consumption and adopt more efficient technologies and alternative sources of electricity, tailor made to suit your home and requirements," he says.
"The Enel X energy audit includes a full evaluation of the home's energy usage, with the installation of metering equipment to monitor appliances, geyser, pool pumps, et al, over a period of weeks. At the end of this, the technical team analyses the results and provides a diagnostic report with recommendations of ways to reduce your consumption over both the short and long term."
Stroebel says just as one example, findings may reveal that an old refrigerator is consuming as much as 30% of your electricity bill. By the end of the audit process and installation of energy-efficient solutions, you could achieve up to a 70% reduction in your electricity consumption, resulting in considerable cost savings.
A 'Green Home Assessment'
"In the Cape, the Western Cape Government in partnership with the City of Cape Town and GreenCape, has developed the Green Home Assessment tool, which is a voluntary resource that can be used for all residential units. The aim is to inform potential buyers of the efficiency measures that have been implemented in the home and the potential savings these can provide," says Stroebel.
Last year (2017), Stroebel says the Western Cape Government, partnering with Pam Golding Properties, ran a pilot to test the Green Home Assessment via their agents.
"The feedback was incredibly positive, with buyers and sellers finding it a useful tool as this province becomes increasingly resource-efficient."
New build green homes springing up
Stroebel says apart from homeowners who are retro-fitting their homes with green features, new builds are increasingly green, through the construction of apartments in green precincts and apartments and freehold properties in eco-estates.
"Menlyn Maine in Tshwane Municipality is Africa's first green city, created in an environment that future generations can enjoy - with green buildings, sustainable materials, efficient design and much more. Based on an innovative urban design concept that aims to create a positive shift in how South Africans live, work and play, this precinct has been developed with sustainability and environmental consciousness at its core," says Stroebel.
"It was designed and developed with accessibility, walkability, tranquillity and vibrancy in mind, providing a new approach to city living in Pretoria."
As a partner of the Clinton Climate Initiative, he says this is one of only 16 green cities around the world, and the only one in Africa. In line with the exceptional sustainability benchmarks, all buildings in the precinct are rated 4 Green Stars by the Green Building Council of South Africa (GBCSA).
Retha Schutte, Pam Golding Properties regional executive in Pretoria, whose offices are situated in Menlyn Maine, says this is a space where everyone can get to where they need to be on foot, whether for work, home or entertainment and leisure. This is achieved through designated bicycle lanes, wide pavements, easy access to public transport, parking and accessibility for disabled persons and even special blocks with grooves and buttons to guide blind pedestrians.
She says in so doing the developers have created a unique culture of closeness and community through spacious parks, vibrant piazzas, as well as familiar boutique-style retailers and other shared facilities.
Stroebel says to quote the mantra of the GBCSA, this is all about creating an environment where people and planet can thrive.