Well located Sandton properties, particularly those found in top estates, continue to be in demand thanks to their central location and lavish homes with unique architectural designs.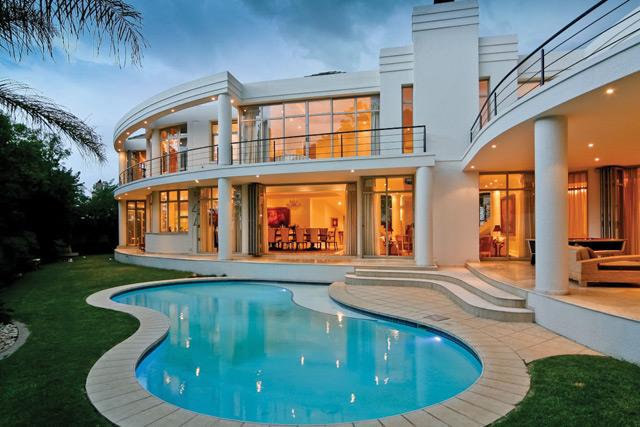 This lavish five bedroom home in one of Morningside's prestigious estates is centrally located and offers a warm sense of community. The property is on the market through
Pam Golding Properties
, and the price is available on application.
Clouds End and Villa Fiori in Morningside are sought after, attracting young and established families. Some of the original buyers who bought property when these estates were established in 2004 and 2001 respectively, still live here, says Lara Nathan, Pam Golding Properties area specialist.
Nathan says Clouds End, considered the "best address in Morningside", offers 26 freehold properties in a secure lifestyle environment with properties measuring between 1 100sqm to 2 500sqm in size. Prices range from R12 million to R45 million, with R45 million being the highest price achieved within the estate in the past five years.
Most of the homes are grand, with expansive gardens offering plenty of private, outdoor space. Some have more than four bedrooms, featuring different designs. In 2018, Pam Golding Properties sold a designer home for R18 million.
Villa Fiori has 12 properties of between 1 000sqm and 3 000sqm. To date, prices here range from R10 million to R17 million, with R17 million being the highest price achieved in the last five years. This was sold by Pam Golding Properties.
"The fact that both Clouds End and Villa Fiori are exclusive and secure, with a low turnover, means there will always be demand for property in these estates," she says.
Morningside is located close to the Sandton CBD, and various suburbs including Bryanston, Rivonia, Riverclub and Parkmore. It also offers easy access to the N1, M1 and N3 highways, with the Gautrain bus running through the suburb. Schools such as Crawford Sandton, Grayston Preparatory School, Lycee Jules Verne French International School and Redhill School are nearby, and there are also a number of entertainment, medical and retail facilities within, and close to the suburb.