A shortage of student accommodation offered by WITS, UJ and other tertiary institutions close to the Johannesburg city centre has resulted in an almost unprecedented demand for student rentals in Braamfontein.
"95% of the enquiries our branch receives are for student accommodation, but because of Braamfontein's size and no new developments being erected here at the moment, demand far outstrips supply," says Byron Cornish, a Seeff Licensee in the Johannesburg CBD.
This three bedroom, two bathroom apartment has a modern kitchen and is well maintained. The building is conveniently located near Wits,
Rosebank
College, Damelin,
City
Varsity and
Boston
College. It's selling for R839 000 -
click here
to view.
"The majority of students looking for accommodation are from WITS due to the close proximity, but there is also a large demand for the UNISA-based universities, like Rosebank College, Damelin and Boston College, to name a few. There are also many small Technicons and colleges in the area, making Braamfontein a true student hub."
Even though the universities offer accommodation in student residences in and around campus (albeit limited), many students prefer sectional title living over this type of accommodation, especially from their second year onwards.
"Braamfontein offers residences and apartments, and while Seeff mostly manages apartments belonging to individual owners, we have just taken a beautiful new female-only residence known as the Ntombi Res, which has proven to be very popular and includes various utilities and Wi-Fi for a monthly rental of R3 595 per month for a 10-month lease," says Cornish.
The trend in Braamfontein at the moment is that first-year students will tend to stay in communal residences because most come from other provinces and don't know the area well. South Point is the biggest player in this field, with over 4 500 beds available in Braamfontein.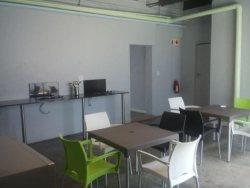 This brand new female residence in Braamfontein is within walking distance from WITS as well as other university learning institutions in the area. Double room sharing from R3395 per month -
click here
to view.
From second year onward students prefer to move into their own apartments, because not only have they made some great friendships and roommates to move in with, they have become more familiar with the area, know which buildings are best and feel more secure in general. In sectional title units they can also enjoy more freedom and privacy.
"The model in Braamfontein generally follows a trend of two students sharing a bachelor unit, two or three students sharing a one bedroom apartment and four students sharing a two bedroom apartment, because they are used to a sharing set-up from their days in res," says Cornish.
"While Braamfontein student accommodation is still below the curve when looking at prices of UCT, Stellenbosch and other universities, the returns are still great for investors. Generally bachelor units are priced from R6 000 per month, one bedroom apartments from R7 500 per month and two bedrooms from R8 500."
These prices differ per building and unit and depend on factors like the apartment being furnished, availability of Wi-Fi, etc. Not many students require parking in Braamfontein, because the furthest building from any university is only a 10-minute walk at most.
This one bedroom apartment's main door opens to a modern kitchen with fitted cupboards. It has an open-plan lounge area, a secluded bedroom with cupboards and bathroom with floating sink and shower option. It's on the market for R545 000 -
click here
to view.
The high demand for tenants and high rentals create a huge opportunity for investors. "We are still able to provide opportunities yielding over 10% returns in Braamfontein," says Cornish.
Recent pricing has started to push up as more and more people invest in the area and see the student model as a good one for their portfolios. This has pushed yields down slightly, but has given previous investors good capital growth.
There are, however, always opportunities in Braamfontein, and as the market is made up of 90% investment buyers, there is a lot of liquidity.
"Braamfontein has become very secure over the last few years and commercial development like shops and restaurants also place high value on security. Residential buildings are very secure, with most having CCTV, access control and security guards," says Cornish.
"Students will generally always favour Braamfontein as it is within walking distance of the universities, and it has also become a cultural student hub with an incredible vibe making it the 'cool' place to live."
Although Braamfontein will most likely always be a student area, Cornish says it has also become a hotspot for outsiders wanting to experience a part of Johannesburg CBD that is safe and fun.