Increasing awareness of property's long-term asset value is ensuring steady demand for homes in Polokwane, where house prices have grown by more than six percent since the beginning of the year.
This is according to Ruth Maponya, principal of Harcourts Polokwane, who adds the trend towards home ownership in her area is gathering momentum on the back of ongoing job creation and a thriving local economy.
Polokwane, which as South Africa's northern-most province enjoys easy access to African markets, is outperforming the national economic growth rate, she says, attributing this to the city's thriving government, agricultural, mining and tourism sectors. She believes the economy is on track for further growth should pipeline plans for new office parks, a multi-million rand lifestyle shopping centre, an international convention centre and low cost houses receive the green light.
"Our buying pool currently includes graduates and other newcomers to the workplace as well as existing property owners wanting to move to larger homes in more exclusive suburbs. There is also demand from residents who, though working in other towns, want to buy a place to call home when they return to live here some day.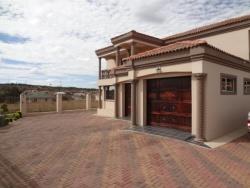 "People increasingly want to own their own homes, not only for the security that this brings but also because they see property ownership as the path to wealth creation," says Maponya.
Regardless of budget, Maponya says the main focus at all buying levels is on location, with the ultimate go-to suburb being Bendor. "Even first-time buyers with limited budgets have long-term plans to trade up until they can afford to live in the high-end suburbs.
"Rather than settling for the first available roof over their head in their price range, they're taking their time to look for properties in locations that will allow them to sell for a decent profit in a few years' time."
Currently, Polokwane's entry level properties comprise bachelor flats and low cost houses in areas such as Bo Dorp and Doornkraal. Her best value-for-money offerings in this category at the moment are a 45 square metre flat for R420 000 and a low-cost house, priced at R450 000.
In the middle price range, Polokwane is accommodating buying interest in suburbs such as Bendor, Flora Park, Faunapark and Ivy Park, where a three bedroom house with two bathrooms, lounge and dining room costs R850 000.
The crème de la crème of the capital city's homes is to be found in Bendor, she says. "Most successful business people stay in Bendor, which is home to the upmarket Mall of the North as well as good schools and high-end office parks. People want to be where things are happening and where they know that their properties will accrue in value.
Starting from R1.2 million and attaining prices of R8 million, the suburb offers a selection of beautifully maintained residences, many of which are set in security estates.
While newcomers to the area with their families in tow tend to buy houses similar to those they owned prior to relocating, according to Maponya, others whose families don't accompany them opt for compact lock-up-and-go living.
"There is steady demand for townhouses in the R650 000 price range by people who work here during the week but go home to their families over the weekends," she says.
Aside from being a sought-after residential destination, Polokwane is also a magnet for tourists owing to its proximity to Zimbabwe, Mozambique and Botswana as well as the Kruger National Park and a host of other wildlife attractions, she adds. "In addition, Polokwane is being increasingly singled out by investors who see untapped opportunities for development in the tourism, agricultural and retail sectors."