Most sellers would love to sell their home in conditions where multiple buyers are interested and there is little to no price negotiation. In conditions like these, houses sell faster and for more.
This is the living area of a home in
Bryanston
before it was staged.
This is according to Lucy le Roux from Illuminate Home Staging, who says while some sellers may be waiting for the property boom to return or for stock shortages to get so low that the same selling conditions are created, there is actually a lot that can be done to create boom-like conditions for your individual property, no matter the macro-economic environment.
She says sellers can make use of the practice of home staging, which though seen as best practice in property markets around the globe, is still relatively unheard of in South Africa.
This is the same living area after being staged.
"Home staging is any activity involved in ensuring a home appeals to the highest number of potential buyers as possible prior to listing," says Le Roux.
"This is essentially the principle at the core of all marketing: understand your audience and do everything in your power to make your product as desirable and easy to purchase as possible."
With eco-mobility month and the introduction of various international brands like H&M, Pizza Hut and Krispy Kreme we might be fooled into thinking our major cities are enjoying all the benefits of many international cities, but in reality, Le Roux says the way property is sold in South Africa is over two decades behind its global counterparts.
"Marketers in these countries know that the same techniques that get people to buy everything from toothpaste to 4x4's can be used when trying to influence the single largest purchase most of us will make in our lifetimes: buying a home," she says.
"There is an entire arsenal of property marketing techniques that as yet haven't even been capitalised on by South African homeowners. Research from the United States shows that staged homes sell 50% faster than unstaged comparable properties and can result in a final offer of 8% to 10% higher than the sellers would have received."
Le Roux says taking the appropriate time involved to prepare your home prior to listing can increase the possible demand for your property substantially, creating optimised selling conditions. How does it work?
This is the view of the living area from the hallway before the room was staged.
Home staging helps buyers to connect emotionally to your home and helps them to visualise how they could live in the space, raise their family and entertain their friends. Ultimately it shows how buying your particular home will help them to achieve their dreams and aspirations and gain the admiration of others.
Home staging removes uncertainty and various barriers to purchase. By presenting a move in ready home where buyers are given a sense of the scale and purpose of each room, buyer uncertainty, a factor which often prevents a sale or keeps potential first-time buyers in the rental market, is reduced.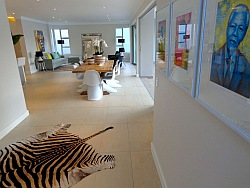 This is the view of the living area from the hallway after the room was staged.
Home staging allows buyers to appreciate the overall space, rather than focusing on small details that may put them off. By focusing on increasing the overall beauty and appeal of the home, the property is given an edge. Beauty is proven in countless studies to be linked to higher earnings and success.
Immaculately presented homes are rare in the South African market. Focusing on the presentation of your property puts you head and shoulders above the competition and leads to buyers feeling that they have found something special. This leads to less price negotiation and faster sales.
Illuminate Home Staging's top 5 tips on how to prepare your home when selling are:
1. Remedy anything that will put buyers off
Here the prime suspects are too little light, dirt and odours, stained carpets, cracks, leak damage, bright paint work, damp, pests, wear-and-tear on grout, window putty and exterior wood.
2. Start packing
You plan on moving anyway, so you may as well get started. Up to 40% of all belongings, including furniture and things already packed in cupboards, can be packed and put in storage.
Anything you haven't used in the last six months, including all personal photos, should be packed.
Not only will this make your house feel more spacious, it will give buyers a chance to imagine themselves living there instead of feeling like they are intruding in your home.
3. Get the basics right by standardising the look and feel of your home
This is the kitchen of the home in Bryanston before it was staged.
Choosing a theme and carrying it though the house has a huge impact on creating a calming space that feels well loved.
Choosing a neutral paint colour for the whole interior that ties in with flooring and any built-in elements is a good place to start. Don't be afraid to paint over wood or brick as this often updates and unifies the look and feel of older homes that have these features.
Next, consider standardising small details like door and cupboard handles, curtain rails, lighting and entry-level contractor doors as these really set the tone for the overall feel of the home.
This is the kitchen of the home in Bryanston after it was staged.
Repetition is key to creating a space that looks put together.
4. Add something loveable
To get buyers to part with large sums of money, they need to fall in love. Here it's important to note that you need to implement something that is universally loveable, a trend, to make sure you get this right.
By just including a few on trend features you will instantly increase your home's appeal.
This could be anything from adding a barn door, subway tile backsplash or blackboard in your kitchen, to feature pendant lights, geometric scatter cushions or a vegetable garden.
5. Get a fresh perspective
Invite your most honest and stylish friend or contact for tea and give them permission to give you the ugly truth about your house.
If you want to keep your friendships intact, get the advice of a home stager. It's approximately R1 500 well spent for a consultation.