The forecast for the national rental market in 2018 remains a "mixed bag of good news and bad news". Although rentals are expected to rise slowly as the challenges of home affordability and stricter lending criteria tighten their grip, it's a double-edged sword as the market also will come under increasing pressure from factors like declining disposable income levels.
This is according to Lew Geffen, Chairman of Sotheby's International Realty, who adds that possible tax hikes this year would further exacerbate the situation.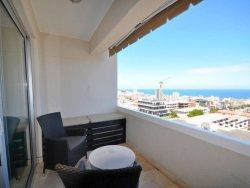 This two bedroom apartment in
Cape Town
with sea views comes fully furnished with an open plan lounge and sliding door access to the balcony from the bedroom and lounge for R25 000 per month - to view,
click here
.
"Another glimmer of hope was the change in ANC leadership in December and the positive response of the rand, but this is only cause for cautious optimism as no real impact will be felt in the market until an exit strategy and date have been announced," says Geffen.
Johette Smuts, head of data and analytics at Payrop, says that the performance of rental markets in the different provinces varied considerably last year due to a number of additional influencing factors.
"Rent levels in provinces strongly supported by mining, for example, can be more volatile as they are notably affected by international commodity price movement – and perhaps even more so by overseas investors' decisions.
"In 2017, five out of the nine provinces saw a reduction in the rental growth rate, with a flagging Limpopo dampening the national figure, while the North West Province, also a mining area, bounced back recently after very low growth the previous two years. Gauteng and the Western Cape, which have shown high, more consistent growth, are again in first and third place respectively as they were the previous two years."
Market performance has also varied considerably between suburbs and areas, especially in the major metros and most of the market shifts seen last year are expected to continue in 2018.
Situated on a large plot with a double undercover garages, its own entrance and access to the garden and natural water pool, a short drive from the
Sandton
CBD for R16 000 per month - to view,
click here
.
Western Cape sees reaction to water crisis
Lorraine Dellbridge, Rentals Manager for Lew Geffen Sotheby's International Realty in the SouthernSsuburbs, Noordhoek and False Bay, says: "Although the market remained fairly stable, there has certainly been a reaction to the prevailing climate, especially with the deepening water crisis, which has dramatically slowed semigration to the Western Cape.
"There has been a notable increase in stock on the market, especially in the middle areas and, at the top end of the market, landlords have begun to lower their asking prices after homes have stood vacant for up to four months. Prices in the Fish Hoek areas and surrounds did, however, see significant increases, particularly in estates." And although, Dellbridge says, they have had a number of enquiries from foreign investors this year, she believes with the water situation it is very likely that they will begin to see fewer foreign tenants.
Lisa Hendricks, Dellbridge's colleague on the Atlantic Seaboard, says although the rental market on the sought-after coastal strip has retained considerable strength, one of the main reasons for the area's continued resilience is that landlords have been more open to negotiation, which has resulted in stable rental prices across the Atlantic Seaboard.
Gauteng a mixed bag with better yields
This 188sqm
La Lucia
apartment is close to La Lucia Mall and features a study and living area which leads out to a covered patio with own private pool and garden for R30 000 per month - to view,
click here
.
"Unfortunately, the positive sentiment and boost in investor confidence we saw after the election of ANC president Cyril Ramaphosa in December is being off-set by the severe drought and we are now starting to see many prospective tenants from abroad and across South Africa opting to move to the Gauteng region instead of investing here," says Hendricks.
According to Shaun Groves, Rental Specialist for Lew Geffen Sotheby's International Realty in Gauteng, there has been an increase in demand in recent months, particularly at the top end of the market.
"Last year 'The Parks' seemed, as always to be the most resilient and, although rentals were not completely immune, prices for the most part remained constant with only slight adjustment," says Groves.
"The low to middle market sectional title sector in and around Sandton has taken the hardest knock. The number of vacancies has increased dramatically and yields came under severe pressure," he says.
However, Groves anticipates that in most areas 2018 could well be a better year for rental yields.
"Basic economics of supply and demand apply and if landlords remain realistic then there is every chance that they will enjoy a solid rental year," he notes.
This fully furnished apartment situated on the prominent
Umhlanga Ridge
, features 24-hour security, an open-plan modern kitchen and balcony with sea views for R15 500 per month - to view,
click here
.
KwaZulu-Natal continues shift to the north
In Durban, the shift to the northern suburbs looks set to continue as ongoing commercial and residential development continues unabated.
"There are a multitude of new developments North of Umhlanga Rocks that are attracting families and executives who are not deterred by a slightly longer commute to work and we believe these areas will continue to gain market share," says Mandy Testa, area specialist for Lew Geffen Sotheby's International Realty in Durban North and Umhlanga.
"Durban North, Glen Ashley and La Lucia are the most resilient in terms of vacancies as demand far outstrips supply in these areas. The Umhlanga beachfront fares well, however, many landlords prefer to use these properties for short-term holiday lets.
"The New Town centre around the Gateway Theatre of Shopping now provides the best supply of rental accommodation and landlords continue to yield steady growth. This area provides a perfect target market for the buy-to-let investor, it's also essential for landlords and investor buyers to do their homework," says Smuts.
Knowing what drives supply and demand of rental stock in your province is very important when looking at the bigger picture as it will allow you to position your property within the market.
"Ultimately, a well-priced home in most areas will always find a tenant - and in the current economy, especially, it is far more costly to have a property stand vacant for several months than to reduce the rental," says Geffen.