Lifestyle estates around the Roodeplaat Dam north of Pretoria offer a diverse choice of properties in a typical bushveld setting and a new private school is proving to be a strong draw card for family buyers.
Interest in estate homes in this area escalated sharply after a Curro private school opened its doors here two years ago, says Derick Grobbelaar, owner of the Harcourts Zambezi franchise, which serves the area north of the Magaliesberg, including the suburbs of Montana Park, Montana, Sinoville, Magalieskruin, Doornpoort, Anlinn,Wonderboom and Pretoria North.
"A local school is attractive to prospective buyers who want to live a secluded lifestyle on the edge of the metropolis, yet do not want to spend hours ferrying children to and from school. Enrolment in the school, which offers primary and secondary education, is now at a capacity and we are currently negotiating the sale of new premises for a separate high school to accommodate a growing waiting list for admission," he says.
The Curro School was established in the Sable Hills waterfront estate and the current premises will be used for an enlarged primary school while the new high school will be in the adjacent Pebble Rock golf estate. The high school is expected to be completed in 2015.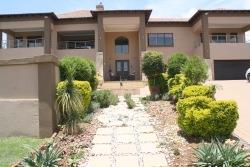 Grobbelaar says lifestyle buyers are spoilt for choice in the Roodeplaat and Kameelfontein areas about 15 to 20km from the large Kolonnade shopping centre. "Three estates at the dam, each with unique features, offer a relaxed and secure lifestyle, while smallholdings and farms cater for buyers who prefer larger properties."
Sable Hills is an established waterfront estate offering access to watersport on the dam, a private boating club, an Olympic size swimming pool, and the opportunity to view giraffe and small game. Prices of undeveloped 1 000 square metre stands start at around R600 000, although those on the waterfront are being marketed at around R3 million.
Comfortable three bedroom family homes sell at prices from R2.5 million, while upmarket homes with up to five bedrooms, four living areas, four garages and access to the waterfront sell at prices of up to R15 million.
Undeveloped 1 000 square metre stands in the adjacent Pebble Rock golf estate sell for between R300 000 and R500 000, and house prices range from around R2 million to R8 million.
In the popular Leeuwfontein eco estate, 1 hectare stands are selling for between R600 000 and R1 million, while home prices range between R2.5 million and R8.5 million.
Smallholdings in the area are selling at prices from R400 000 for undeveloped 1 hectare units to around R5 million for established holdings with a dwelling. The most popular price range for smallholdings is currently between R1.4 million and R2 million, for between 1 hectare and 2 hectares.
"Our quick growth can be ascribed to the popularity of quality homes in the area and the phenomenal systems and support that the Harcourts group offers franchisees," Grobbelaar says, adding that the suburbs north of the Magaliesberg are rapidly growing in popularity and offer a diverse range of homes - at prices from as little as R495 000 right up to around R5 million for hillside executive homes with panoramic views.