There is no denying the beauty and old world charm offered by pressed ceilings. Popularised as an architectural feature in Victorian homes during the late 19thand early 20thcenturies, pressed ceilings remain a much admired and sought after element in many modern homes today.
A bit of history
Antique pressed ceilings were mass produced from thin rolled tin-plate – sheets of tin were stamped one at a time using rope drop hammers and cast iron moulds. They were traditionally painted white to create the illusion of hand-carved or moulded plaster. Built to last, many older homes still bear witness to the durability of these ceilings, especially in the absence of moisture damage, which lead to corrosion. However, over the years, many ceilings did eventually bear the brunt of wear and tear over the years, which has lead to a burgeoning restoration industry.
DIY restoration
If your home boasts beautiful pressed ceilings that are in good order, this is the perfect job for any DIY enthusiast. It entails simply stripping old paint, treating the metal with a protective base coat, patching minor damaged areas, and then repainting the ceiling. If you are thinking of restoring your pressed ceilings yourself, follow these simple steps for a trouble-free project:
- Use thick sheets of plastic to prepare the room – tape it from the top of the walls to the floor, and make sure the floor is covered too. Overlap the plastic sheets and tape the seams together.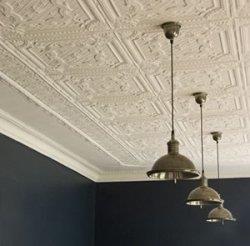 - Be sure to wear the correct protective gear, including protective eyewear, a mask, a hood or shower cap to cover your hair, as well as protective gloves and an overall. This is especially important if you will be removing years of old paint, which could contain lead and be toxic.
- To remove the paint, you can sandblast the paint off, you can use a heat gun, or you can use paint remover, however, this can be tricky with all the intricate patterns that are so prevalent on these kinds of ceilings.
- Once all the paint has been removed, use a good rust remover to remove any offending rust. Then you can gently buff the ceilings using steel wool, or a buffing attachment on your high power drill, to create a smooth surface.
- To paint the ceilings, use a primer first, and then you can use a spray paint or a semi-gloss oil-based paint to complete the ceiling.
Modern restoration
If the thought of restoring your own pressed ceilings is too daunting for you, or your pressed ceilings are in a serious state of disrepair, then it is advisable to enlist the help of professionals who specialise in the restoration of these beautiful feature ceilings.
For those ceilings where there are a couple of panels that need to be removed and replaced, specialised restoration companies will make a mould of the existing ceiling and then manufacture the required pieces in fiberglass for an exact match. Fiberglass is a great replacement material to use, as it is moisture-, mildew-, rust-, rot-, mould-, corrosion- and stain-resistant, and it doesn't dent.
Alternatively, if you are lucky, the specialist may be able to source genuine antique ceilings that match yours, which can be reconditioned and installed in your home.
A more affordable adaption
For those homeowners working on a budget, imitation panels are available – they are pressed from plastic or aluminium. They are lightweight and can be installed directly onto the existing ceiling board for great aesthetic appeal. – Antonella Desi
Readers' Comments Have a comment about this article? Email us now.