Mauritius has always been and continues to be an attractive holiday, investment, and retirement destination for South Africans.
Black River
and Grand Baie (pictured) are investment hotspots for South Africans looking to buy property in Mauritius.
According to Broker/Owner of RE/MAX 24, Errol Areington, South African real estate investors seem to be flooding to its shores now more so than ever before, meaning that those who fail to invest sooner rather than later are going to have to pay a lot more to secure their own space on this tropical paradise.
"We have noticed that South African investors want to move to Mauritius as soon as they find out that they can acquire a property with a minimum investment of just MUR 6 000 000 (± R2 5 million)," he says. "In terms of foreign investment opportunities, this presents one of the most affordable options for South Africans."
This apratment in the Ki Resort Apartments development, in Pereybere, offers two bedrooms, two bathrooms, a magnificent complex pool and more. It is selling for
Rs10 642 705 (around R4.65 million, depending on exchange rate) -
click here
to view.
Areington says most non-resident purchasers prefer to rent out the property on a long-term lease, as they don't want to maintain the property themselves and long-term rentals tend to require less maintenance than short-term letting.
Alternatively, he says the buyer can place the property in a rental pool. "It is also possible to make a request to the property management company to keep the property vacant so that the buyers can use it when they visit Mauritius."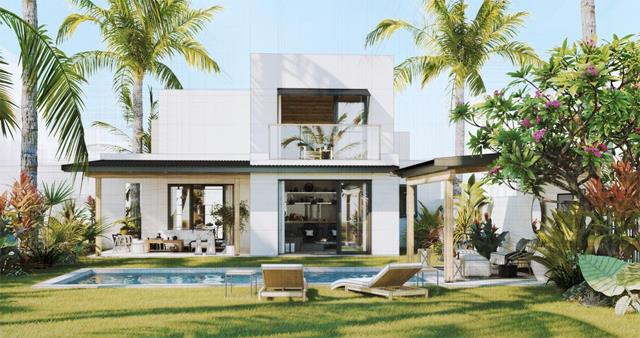 This three bedroom villa in Pointe Des Lascar blends a cosmopolitan construct with the open-air lifestyle appeal of the tropics. It is priced at Rs29 313 279 (around R12.3 million) -
click here
to view.
While most buyers choose to rent out the home for most of the year, many also purchase with the intention of one day retiring in Mauritius. "This is often owing to the fact that foreigners above the age of 50 years may choose to retire in Mauritius without much hassle," Areington explains.
In terms of investment hotspots, Areington suggests Black River and Grand Baie. "Black River is traditionally where most foreigners go on holidays and a lot of South Africans have since come to live in this area now. It has come to be considered as an elite area. Plus, from these suburbs, buyers will get the most magnificent views if they live on the mountain side."
When it comes to foreign property investments, Adrian Goslett, Regional Director and CEO of RE/MAX of Southern Africa, recommends that buyers consult a global real estate brand. "Conducting property transactions across borders requires specialised knowledge and skills, as well as assistance from a local expert on both sides of the deal if required."