The best time to buy a luxury property in Cape Town's Hout Bay is now.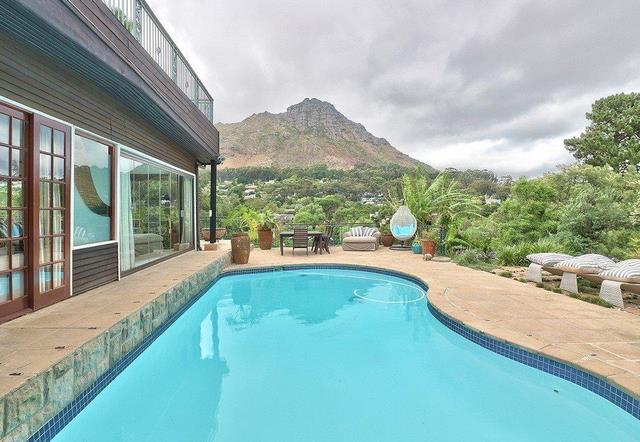 This seven bedroom, seven bathroom house in
Hout Bay Central
,
Western Cape
, offers a jacuzzi, sauna, large gym, boma with built-in braai and a koi pond. It is on the market for R13.995 million -
click here
to view.
This is according to Julian Wannell, property specialist with Knight Frank in Cape Town, who says that with Cape Town ranked the 8th fastest-growing luxury property market on the Knight Frank Global Wealth Index, Hout Bay's vibrant and integrated community currently offers an idyllic lifestyle of mountains, beach and sea at only 30% to 40% of neighbouring Camps Bay's hefty price tag.
Speaking from Knight Frank's Hout Bay office, Wannell says Hout Bay is the new investment hub away from other areas of the Atlantic Seaboard, where prices and popularity are often exaggerated.
Hout Bay offers investors value for money, the option of a semi-rural lifestyle, yet all the amenities of a small town. Living a close 20 to 25 minutes from the Cape Town city centre, you can still ride your horse, walk your dog on the beach, surf, launch your fishing boat or scuba dive, and then enjoy the many popular restaurants and bars. For families, there are endless leisure opportunities and respectable government, international and private schools available, says Wannell.
This five bedroom, seven bathroom home in
Valley Area
, Hout Bay, has an indigenous fynbos garden and offers a fully-furnished cinema room, a large outdoor dining deck and separate boma with fire pit. It is selling for R19.5 million -
click here
to view.
Hout Bay is well-known for having its own independent character and a loyal and diverse population, making it a welcome respite from the homogeneity of the Southern Suburbs, he says.
"We're seeing a synergy of young international investors and entrepreneurs coming to live and work in Cape Town's tech and business hub, together with South Africans who have previously worked abroad or moved from Johannesburg. Many pursue a healthy work-life balance surrounded by sun, sea and mountains, blessed by a maritime climate and long, hot summers. Hout Bay is perfect for these professionals," says Wannell.
With exceptional opportunities on the table, Hout Bay's comparatively large private properties with majestic views are matched by several new developments currently under construction, including one such development by South African business magnate Sol Kerzner and his daughter. The pricing of released plots and architecturally designed homes on this estate are high, rendering other more established estates and luxury properties in Hout Bay reasonable in comparison.
"Choose a 500 square metre home on a 2 000 metre plot for R12.5 million in Hout Bay and it would sell for at least double that price in Camps Bay, despite being just 12 kilometres along the coast and overlooking its own secluded bay."
This five bedroom, six bathroom house in Hanging Meadow, Hout Bay, offers a study, patio, braai area with built-in braai and lovely gardens. It is on the market for R15.995 million -
click here
to view.
According to Wannell, Hout Bay is still a 'well-kept secret', "many people know of Hout Bay or have visited a long time ago, but not many know it well".
Commenting further on macro-economic and political issues which have affected the market, he says some factors which previously slowed the market are no longer relevant.
"We saw prices falling due to the ripple effect of a prolonged drought, but thanks to the efforts of Cape Town officials and the response of locals, the message has been received by the international community that our dams are now closer to capacity," says Wannell.
"Whilst there is still uncertainty around the issue of land expropriation, most pundits agree that residential property in Cape Town will be unaffected. House prices are expected to bounce back after the May elections, so the opportunity to buy at advantageous levels is definitely now."