The vibrant mixed-use hub of Rosebank, Johannesburg, is experiencing strong demand for high-end, new-build apartments to cater for the significant commercial investment in the precinct in recent years.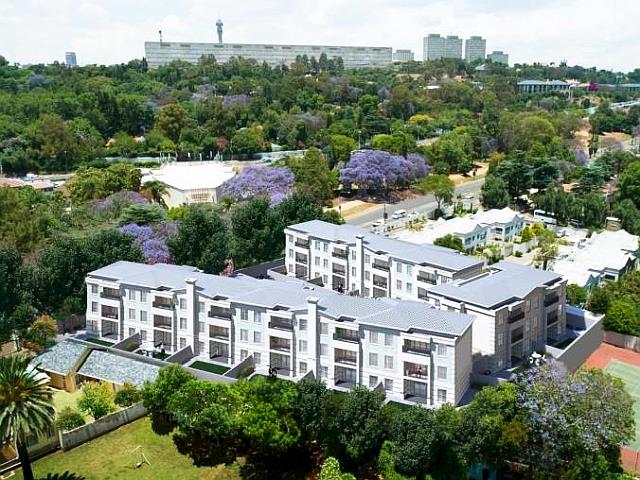 Oxford Five One in
Saxonwold
offers easy access to the Rosebank CBD, as well as two bedroom and three bedroom apartments priced from R2.29 million to R2.99 million -
click here
to view.
Dan Onay and Jonathan Weinberg, who specialise in new development sales at Adrienne Hersch Properties, say new developments coming up in urban hotspots across Gauteng provide the perfect residential solution for those who embrace vibrant city life.
"Rosebank has emerged as one of the city's busiest nodes in terms of construction and is fast becoming the office location of choice for several blue-chip corporates. As a result, we're experiencing significant demand for luxury, lock-up and go, new-build developments situated in or nearby the Rosebank CBD."
Weinberg says location remains a key driver for these buyers.
"Many of today's buyers want a lifestyle focused on modern facilities, convenience and connectivity. We particularly find that millennial and Gen Z buyers want to be near the action - close to work, restaurants, shops and transport," he says.
"Not only is Rosebank itself a major commercial and retail hub, it offers easy access to the Sandton, Melrose, Illovo and downtown Johannesburg CBDs, further adding to its appeal."
Onay says while the area is attracting a broad demographic of buyers, from young professionals, to families, couples, downsizers and investors, 53% of recent buyers in the area are aged between 18 and 35.
He attributes this growing demand to the lifestyle offered by many of the newer developments.
"While there will always be demand for traditional housing, buyer preferences are evolving. They want apartments that provide the features and luxuries of a private home with the convenience offered by apartment living. People also feel more secure in an apartment building where there is secure access and 24-hour guards. The low-maintenance, lock-up and go aspect is also highly appealing to today's buyers, as is access to many of the communal recreational facilities that come standard with the newer developments."
Onay adds buyers are also drawn to the considerable savings offered by developments when it comes to upfront expenses.
"You're buying at today's prices for tomorrow's market with no escalation on the prices during the building period. You also avoid paying transfer duties on the property, and in many cases legal fees as well."
This 73sqm New York-style apartment in Rosebank, Johannesburg, has two bedrooms and two bathrooms and is close to amenities. It is selling for R2.5 million -
click here
to view.
Approximately R20 billion has been invested into Rosebank in the past two years and the development of the massive new precinct, Oxford Parks, will bring an additional 300 000 square metres of mixed-use space to the area.
Adrienne Hersch Properties is currently marketing two high-end residential developments close to the Rosebank CBD.
The first is Oxford Five One, a luxury boutique development situated in the heart of sought-after Saxonwold, only minutes from the Rosebank CBD. The development offers 36 two- or three-bedroom units, both with two full bathrooms. All apartments also have a basement storeroom and two basement parking bays. 50% was already sold prior to construction starting last month.
The second is The Signature, situated in Houghton Estate, on the edge of the Rosebank CBD, 900m from Rosebank Shopping Centre and 500m from the Rosebank Gautrain Station. The development features 30 two- and three-bedroom apartments and offers first-class amenities including a concierge service, fully-equipped gym and indoor heated pool. Approximately 80% of the development has been sold.
Weinberg says prices of new-build apartments vary depending on quality, size and specifications.
"Both developments are ideally placed on the fringe of the Rosebank CBD, providing buyers and investors the best of both worlds - immediate access to the burgeoning Rosebank CBD, together with the benefits of peaceful suburban living in two of Johannesburg's most exclusive areas."
He says the excellent sales of units in both developments defies the generally sluggish luxury residential markets in other strong growth pockets across the city such as Sandton and Hyde Park.
Check out new developments in Rosebank here.