With the recent changes in the Mauritian government's property investment legislation which now makes it a lot easier to invest in property, foreigners have been streaming to this island - and many of them are South Africans.
St Antoine is a popular development in the north, offering fabulous sea views. Buyers can get permanent residency in Mauritius when buying property from USD500 000 and up.
Foreign buyers can now purchase property in popular developments within close proximity to the ocean starting from R3.3 million (approximately MUR 8 000 000).
Other nationalities acquiring property on the island include a big percentage of French buyers and also buyers from Madagascar, the UK, Switzerland and Belgium, amongst others.
Severine Pietersen from Seeff Mauritius, says according to a report from the Economic Board of Development 2 737 units on the island were sold to foreigners as at September 2018 and 22% of these buyers were South Africans.
"Additionally there are many South Africans who live in Mauritius on work permits and as professionals or who have invested in schemes. Most of our long-term rentals at Seeff are also to South African tenants".
Prices vary from a starting point of around R3.3 million for a one bedroom apartment in the KI development in the north of Mauritius.
Pietersen adds the reasons for South Africans investing in Mauritius are vast.
"We see many South Africans investing here as a "Plan B' - in case they have to leave South Africa in the future. These investors then either utilise their property when they come to Mauritius on holiday, or they put it in a rental pool management scheme to get return on their investment while they are not residing here permanently.
"Property in Mauritius is also sought after as it offers an island lifestyle only a four and a half hour flight from South Africa – this is especially appealing to people who want to experience island living, but who still want to be close enough to South Africa because of family and/or business ties.
Find property for sale in Mauritius, click here


"South Africans tend to invest in property in Mauritius between MUR 8 500 000 and MUR 20 000 000 which equates to approximately ZAR 3 477 000 to ZAR 8 200 000".
Pietersen says permanent residency permits are given to buyers acquiring property from USD 500 000 (approximately R7.3 million) and up in Mauritius.
"Buyers can now also purchase apartments in ground floor and two storey buildings from R3.3 million and up. We have properties available for any type of request and budget.
The government has really opened the doors to foreigners and the commercial properties are also increasingly in demand, especially offices.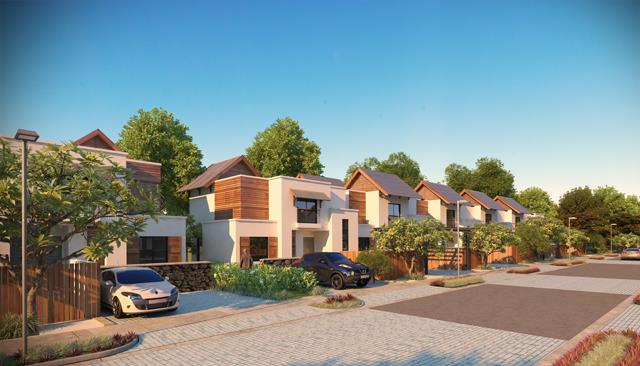 Prices in the Mon Tresor development in the south start from R4.05 million for a two bedroom apartment.
Due to the fact that a foreigner can now invest in an office and put it on the market for rent, we are seeing many business parks being erected all over the island. Being close to the capital or having direct access to the highway is most important - so the Northern part and the centre of the island are popular areas".
Pietersen highlights Mon Tresor (in the South), Cap Tamarin (in the West) and KI (in the North) as three extremely popular developments starting from the R3.5 million price range.
"All of these developments offer interesting selling prices, are located close to the sea and offer a rental pool system in place. Additionally they are focused on community and make South Africans feel right at home.
Price ranges vary from a starting point of around ZAR 3.3 million for a one bedroom apartment in KI. Prices in the Mon Tresor development start from ZAR 4.05 million for a two bedroom apartment and the entry-level price in Cap Tamarin is ZAR 3.8 million.
Pietersen says they are also seeing more and more buyers gaining interest in the South of the island due to its proximity to the airport and for its authentic, unspoiled beauty.
For South Africans looking for a beautiful sea view, the St Antoine development on the north-east coast of Mauritius is a firm favourite.
"Phase 1 is under construction and Phase 2 has been launched. Sales are going very well, especially amongst South African buyers. Property here is priced as from ZAR 9 144 000 million for a two bedroom sea view apartment."
For more information, contact Meera Marday via email.