Gone are the days when retirees would settle for an old age home or retirement village tucked away in a quiet corner of the busy cities. Baby Boomers and especially Generation X have changed all that - and if they have been living upcountry their entire life, they'll often be heading to the Western Cape for their retirement.
Baby boomers are now in the 55- to 75-year age group and retirement would be a serious topic for them, while Generation X who fall into the 40- to 54-year age bracket will no doubt start thinking about it, especially those entering their fifties, says Ian Badenhorst, managing director for Seeff Country and Karoo.
Both generations have a very different outlook compared to older generations. They are generally fitter and healthier, more tech savvy, especially younger retirees, and are armed with more spending power and knowledge, says Badenhorst.
Retirees are no longer just looking for a retirement home, they want a lifestyle. "They want to be able to choose from a variety of locations, especially the Cape coast or countryside and want a choice of property options to meet their lifestyle needs," he says.
While needs such as easy access to medical facilities and care remain a 'must' for retirement planning, today's retirees also want lifestyle benefits. "Retiring or thinking about retirement property also no longer means that you have to be in your sixties, as there is growing demand from fifty-plussers to live in communities of like-minded and similar-aged individuals."
"Developers have come to the party which means that Gen X and baby boomers have far more choice in terms of property," says Badenhorst. "While you can still find plenty of traditional retirement homes and villages, there are more modern choices available."
Choosing the right location depends on where you want to spend your retirement and whether you want to be close to family and friends as well as what facilities and services (such as medical care) you need close by. Your choice will also depend on whether you want to be close to the beach or whether you prefer nature and the countryside.
Amenities and facilities are vital to today's retirees. Most of the new developments have excellent leisure activities and facilities or will have these nearby and accessible. Personal interest such as whether you are a golfer or enjoy tennis or bowls and so on, will also inform your choice of location and property.
This three bedroom, three bathroom home in Onrus, Hermanus, offers a patio and balcony with sea views. It is selling for R3.475 million -
click here
to view.
Average prices for retirement developments range from around R940 000 to R2.5 million, but can range to R5 million and well above depending on the location and development. There will generally also be additional monthly costs such as levies and services that need to be budgeted for, says Badenhorst.
Retirement property types also vary, and buyers should carefully scrutinise the options and get professional advice if necessary. There is generally a choice of four property types, namely:
Freehold - individual title such as houses in an estate, often with a garden and garage.
Sectional title - apartments and semi-detached homes, some with small private gardens.
Share block scheme (generally a complex).
Life rights - could be a complex or small semis in a development, or sometimes a combination of these, e.g. freehold and sectional title in one estate. Each property type is different with different property rights and costs vary depending on the type of property.
Seeff provides some insight on pricing and property options in popular Cape locations:
1. Hermanus in Cape Overberg - priced from R1.5 million
Hermanus is a popular coastal choice, especially for people from the Johannesburg and Pretoria areas, according to Elmar van Tonder, an agent with Seeff Hermanus. It boasts a well-developed tourism product which includes whale watching, the Hemel en Aarde Wine Valley and superb infrastructure including excellent medical care, state hospital, Medi-clinic and oncology/orthopaedic/eye day hospital.
The highest demand for retirement property is for one bedroom 50sqm apartments in the R1.5 million to R1.995 million range. 135sqm to 145sqm two bedroom cottages ranging from R2.3 million to R2.995 million and 180sqm to 220sqm three bedroom houses priced from R3 million to R4.5 million.
Popular retirement developments include Negester Onrus which offers own title properties aimed at fifty-plussers with access to medical care, meal options, criti-care and more.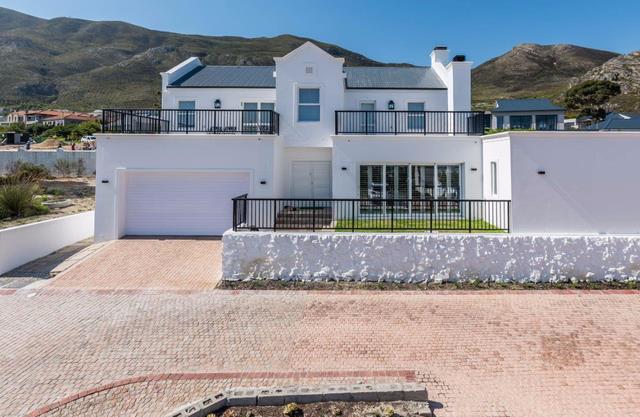 This four bedroom, four-and-a-half bathroom home in Hermanus,
Western Cape
, has a covered patio. It is on the market for R5.5 million -
click here
to view.
Prices range from R950 000 to R5.5 million and there are currently a number of houses on the market in the R2.15 million to R5.5 million range.
Life-rights developments with criti-care include Onrus Manor with a price range of R1.6 million to R2.4 million, Kidbrook Place R730 000 to R3.5 million price range, and Golden Harvest R1.5 million to R1.6 million price range.
2. Porterville in the Swartland - priced from R930 000
Located under two hours' drive from Cape Town makes Porterville in the beautiful Swartland area of the Cape West Coast a popular choice for retirement buyers, says Bettie van Rensburg, an agent with Seeff.
The town offers excellent facilities and medical care, provincial hospital with a clinic and a pharmacy with a clinic. Further medical care is available in Piketberg 25km from the town and Paarl 90km has a Medi-clinic.
Retirement options include Huis Nerina which offers rooms from R5 000 per month with meals and care. There are also flats and small houses which can be bought. It is in high demand, but there is limited space.
Security complexes have become a popular option for retirement buyers, says Van Rensburg.
These include Lemoenkloof which offers two bedroom, two bathroom units priced from R930 000, Dodeka which offers a mix of two and three bedroom homes with a garage priced from R930 000 and Tamariskia which offers two bedroom houses with a garage for R980 000.