South Africa is one of the most sought-after holiday destinations in the world and also becoming increasingly popular as a residential and holiday property location.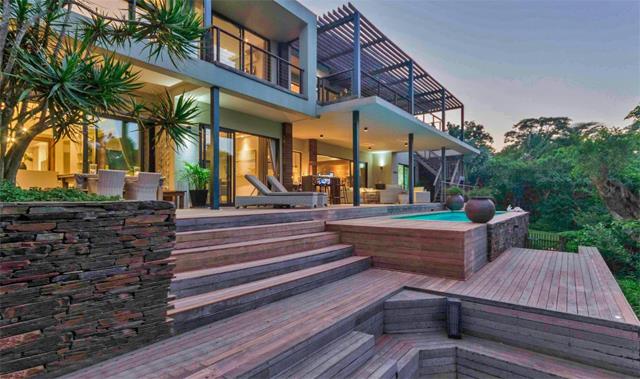 This luxury villa in
Simbithi Eco Estate
is in a quiet cul-de-sac and has spectacular views over the golf course. It is selling for R12.5 million -
click here
to view.
Now buyers are also turning the attention to other hotspots besides the famous Western Cape region. These include the north-eastern province of KwaZulu-Natal and its Dolphin Coast which stretches along the Indian Ocean.
"Property prices in this region of KwaZulu-Natal have consistently provided excellent return on investment. We are seeing strong interest from foreign investors and clients from Europe," says Craig Hutchison, CEO of Engel & Völkers Southern Africa.
"The warm Indian Ocean provides excellent swimming conditions with all the water sports that come with it, this combined with the sub-tropical climate provides an excellent lifestyle," he says.
Compared to other holiday destinations, Hutchison says purchase prices on the Dolphin Coast remain relatively moderate so "now is a good time to invest."
Buy a new home in
Brooklyn Estate
,
Umhlali
, and enjoy an estate lifestyle in a natural setting. Priced at R3.75 million for a four bedroom home -
click here
to view.
The appeal of luxury villas in private resorts
These are "highly sought after" and currently domestic buyers dominate the market in KwaZulu-Natal. The majority of these clients come from Johannesburg and are particularly interested in properties located in first-class residential estates and gated communities such as the Zimbali Estate, Simbithi Eco Estate and Umhlali Golf Estate.
In 2018, villas in the Zimbali Estate sold for as much as R21.8 million. "Besides the contemporary architecture, domestic clients are also drawn by the many amenities offered by these luxury residential complexes, such as access to superb golf courses or private beaches," said Karien Hunter, Licence Partner of Engel & Völkers in KwaZulu-Natal.
Beachfront apartments a stable capital investment
This sea-facing apartment in Zimbali Suites offers access to the Zimbali Coastal Resorts facilities, services and amenities. The one bedroom unit is selling for R3.85 million -
click here
to view.
The holiday resorts of Salt Rock, Ballito and Westbrook rank among the highest priced residential locations outside Durban. Large swathes of sheltered sandy beaches are the main attraction of these sophisticated suburbs.
Premium apartments directly on the coast are among the most sought-after types of property here, fetching sales prices in 2018 of up to R8.4 million.
Clients come primarily from the UK, Germany, the Netherlands and Belgium, and invest in beachfront apartments either as secondary homes for private use or as capital investments.
Outlook: Upward trend set to continue
Engel & Völkers anticipates that the regions around Westbrook, La Mercy and Sibiya will develop into premium locations.
"We are forecasting a sustained level of high demand and rising prices, as the influx to the north-eastern coast of South Africa will continue to intensify," says Karien Hunter, summing up the development of the real estate market in KwaZulu-Natal.