Gardening is not purely a practical exercise, but is about creating a private haven for enjoyment and relaxation. Planning will help you design your dream garden.
Designing a garden and designing a home are in essence based on the same principles. Many gardens are left to their own devices but with a little preplanning, you could end up with the garden of your dreams.
Before starting, decide what you want from your garden, entertainment area, playground area, dining area, relaxation area and obviously include areas that will be purely for growing plants. Draw a plan of your garden and then add in areas that are necessary, see how they will work with your existing surrounds. Look at your garden at different times of the day to get the full picture. Shady areas will be ideal for the kids or for the entertainment area. Remember you will not have a blank canvas to work with unless you are planning to flatten the garden, which could be very costly.
Your garden should reflect your personality but be realistic as to what you can manage and what can be achieved within your budget.
The Elements of Design:
Colour, line, texture, form and space all represent tools of the trade in the designing process.
The Principles of Design:
Balance, emphasis, rhythm and proportion of scale. Style Is the major consideration when designing your garden and these days there are a vast number of options: Cottage style, classic, modern, bohemian, Japanese and minimalist. What's your style? Remember, it's your garden so it needs your touch; soak up inspiration wherever you find it - local garden centres, family and friends' gardens, public gardens and of course magazines.
Classical
A strong feature is the use of divisions such as clipped box hedges, climbing roses, symmetrical lines and decorative fountains.
Topiary gardens play a huge role in the classical garden along with wonderfully manicured lawns. Use different heights in the garden and accentuate straight lines using hedges. A water ornament or fountain against the backdrop of a hedge will slot perfectly into the frame of this type of garden.
Modern
Think space age. Stainless steel, glass, concrete and aluminium will give a modern garden the right feel. This is one of the most expensive styles to choose because of the materials needed to create the ultimate modern garden. Lighting is essential; use lighting behind various materials as well as in the flowerbeds. Landscaping needs to be hard and urban.
Cottage
The idea will make you immediately think of the family picking strawberries while the chickens run around the garden.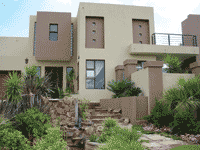 This garden should be colourful, starting with different shades of fruit, flowers and herbs and combining weathered wood and rustic pottery. A compost heap is a must as well as having a herb garden. A cottage garden will have very little or no grass area. Paths can be created purely from pebbles and fences constructed from wooden planks.
Japanese
The perfect style if you are looking for a sense of peace and tranquillity. Simple but not minimal, this style is not ideal for a large space but rather suited to small enclosed areas. You can create a sense of enclosure by using bamboo fencing or screens. This style must incorporate natural looks using water features, bamboo, grasses and stones. Fill your space with things that are serene and spiritual a cast iron and glass table for example will definitely look out of place.
Minimalist
A garden that can be created beautifully from pure and restrained forms. Colours to concentrate on are white and grey. Water is a magical element in a minimalist garden. With the use of cement, you can make straight forms in dimensions that harmonize with your garden. Natural stone, gravel and metal fit in wonderfully; be creative with the different materials but keep them minimal. This particular style can be very low-maintenance - perfect for the busy executive.
Bohemian
A term used to capture the free and colourful life of Bohemian gypsies. A garden design that will really allow you to use your imagination. A large expanse of grass to play on, a folding table under a tree, a meandering path, a playhouse or perhaps even a tree house will help to make the garden multifunctional. If there are two trees close together, a hammock is a must in this garden.
Whatever your preferred style is, different elements can be taken from the various styles and combined together to create your dream garden. - By Debbie
Askham
Readers' Comments
Have a comment or question about this article?
Tell us about it.
Property News
Click here
for more property news articles.
Need a blog?
Start your own blog with a
free blog
from 24.com.