Indoor plants bring a touch of nature to your indoor spaces and help blur the lines between indoors and outdoors. It is so easy to improve the look of a room by adding just the right amount of greenery.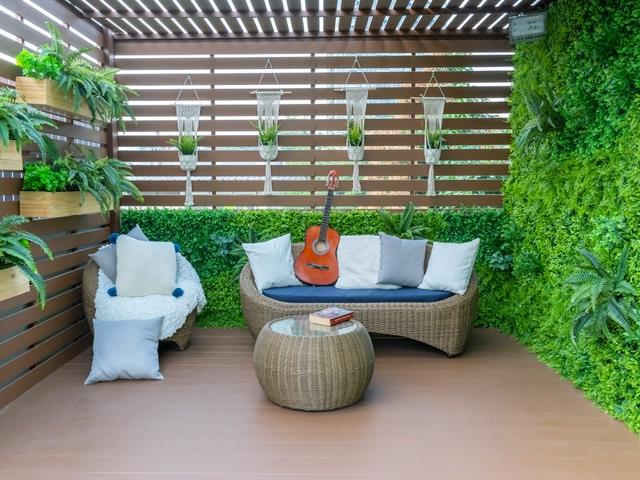 If your living or dining room has a balcony or door to the outdoors, you can use this area to introduce a touch of nature with a few indoor plants. Indoor plants are available in so many different species and varieties that you have an almost unlimited choice of options to highlight the plants you can use to create a relaxing and calm setting.
Maybe a cold, concrete balcony, garden room or enclosed patio doesn't really make you feel comfortable, but a few pieces of artificial turf will make all the difference - no gardening required.
Combine indoor plants with artificial turf to design a sunny spot to sit and relax after a hard day at work. And today's artificial turf is nothing like the astroturf of days gone by. New technologies have created a product that is so close to the original, you will hardly know the difference.
You can use indoor plants to create a feeling or height in a room with low ceilings. Plants don't have to grow upwards, and there are many different species of indoor plants that let you create a hanging garden or waterfall of greenery that draws the eye up and visually alters the height of a room. Just be careful not to overload the window with too many plants.
If you need to block out an ugly view for a window, use airy, hanging plants to disguise the view outside and create a pleasant view that you can enjoy.
You can also use a vertical arrangement of plants to disguise a blank or boring wall. Plastic or wire mesh is ideal for arranging climbers and creepers, plus they create a wall of green, even in rooms with low light. Be sure to check with your local garden centre for the most suitable plants for low or high sunlight levels.
Finally
For those that don't have a green thumb, there are plenty of artificial plants that can give you the same effect, and that don't require any maintenance other than an occasional dusting. You can also use glass picture frames to display plants and leaves.
Article courtesy of www.home-dzine.co.za