It's been many years since the Western Cape experienced a true buyer's market and, after a record-breaking boom which saw property prices skyrocket to new heights, it's not surprising that many sellers are struggling to adjust their pricing expectations to current market levels.
This seven bedroom, seven bathroom home in the
Winelands
,
Cape Town
, has a verandah, pool and private garden. It is selling for R10.95 million -
click here
to view.
According to Dawn Bloch, Area Specialist for Lew Geffen Sotheby's International Realty in Kirstenhof and Zwaanswyk, a substantial number of sellers are not only unaware of the significant change in the market with regard to prices achieved, length of time to sell, and even recessionary and political drivers, they also don't realise the sheer volume of properties on the market in their areas.
Bloch says this is resulting in homes remaining on the market for much longer than necessary, and is negatively impacting an already soft market in which buyers are increasingly thin on the ground, while stock levels are rising.
"I have recently encountered several sellers who have rejected very reasonable offers, opting rather to hold out for a higher sale price, despite the fact that they were buying a new property which was dependent on the sale of their current home," says Bloch.
"And, at the moment, most buyers are purchasing subject to the sale of their properties, topped up with a home loan, or fully bonded as cash buyers are few and far between."
Chris Cilliers, CEO and Principal of Lew Geffen Sotheby's International Realty in the Winelands, says the market was a buoyant pressure cooker for such a long time that it's difficult to convince sellers that the market has fallen so dramatically in such a short period - by around 30% during the past 18 months alone.
It also changed very quickly from a seller's to a buyer's market, and those who are still buying are not willing to overpay for property anymore, with affordability and value for money now very much the order of the day.
This four bedroom, four bathroom townhouse in Zwaanswyk, Cape Town, offers a landscaped garden and pool. It is on the market for R8.9 million -
click here
to view.
And, Cilliers says with all the available stock on the market, they are able to shop around until they find a property where the seller is prepared to meet the market in terms of price.
He says generally the market under R3 million is still fairly active and banks are very keen to fund these buyers, however, above this mark the market becomes increasingly sluggish the higher the price.
In a buyer's market there are usually some investors who recognise the window of opportunity to purchase buy-to-let properties, but for the most part the investment sector is listless and these buyers are now scarce.
According to Bloch, the first two to four weeks are critical in the marketing of a new property, especially at a time like now when properties are continually flooding the market and buyers are spoilt for choice.
If a reasonable offer is received during this timeframe, then it must be seriously considered and examined by the seller with expert guidance from their property consultant regarding how many properties are currently on the market and how theirs compares with similar properties, especially price.
It is therefore imperative that sellers select an experienced property professional who has a thorough understanding of the market in their area, along with strong negotiation skills who will assist them into concluding a sale.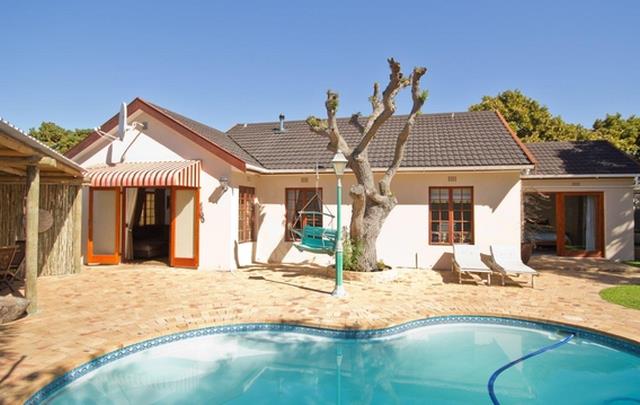 This home in Kirstenhof, Cape Town, offers three bedrooms, two bathrooms, a pool and mountain views. It is selling for R2.995 million -
click here
to view.
"A professional agent and agency will have access to Comparative Market Analysis (CMA), Propstats (Property Statistics) and other sources in order to educate and guide the seller regarding their options," says Bloch.
Cilliers says ultimately an agent can only recommend a sale price and that the final decision rests with the seller and unfortunately many prefer to go in with a higher number reasoning that it can be brought down at a later stage.
This is the worst thing one can do in a slow market as the initial marketed price not only determines the final sale price achieved, but also the length of time a home spends on the market.
"The longer a property remains on the market the less saleable it becomes, and, after around six weeks, you will have lost the interest of potential buyers who might well think that there is something wrong with your home if the price is dropped after it has spent a considerable time on the market," she says.
"During a boom time, the industry is flooded with agents, but nobody still working in the current market is out to make a quick buck - they are the true professionals."
A good agent with a reputable brand behind them should be considered an invaluable asset to any motivated seller, and should be regarded as a partner in the sale of your property.
"And during times like these especially, sole mandates create a real working commitment between seller and agent to actively work together to procure the best and fastest sale on the property, with the least disruption and stress," says Cilliers.