From a Cape Winelands apartment to a charming Karoo cottage, coastal retreat, bushveld escape and more, take a peek at these country homes under R2 million, ideal for couples…
1. West Coast wonderful in Paternoster for R1.995 million
Soak up the serene West Coast with your significant other from the patio of this quaint Paternoster cottage. In a secure complex close to the beach, the home has two bedrooms, one full bathroom, and an indoor braai or fireplace.
To view the home, click here.
2. A cosy cabin in the woods in Knysna for R1.45 million
In Knysna's idyllic Phantom River View estate, this log cabin home offers you plenty of privacy for snuggling up with your partner while admiring the elevated forest views.
Just 11km from town, the home has three bedrooms, two bathrooms, a fireplace and viewing deck.
To view the home, click here.
3. Your own boutique hotel accommodation in Stellenbosch for R1.25 million
Live it up in luxury when investing in one of the 30 units for sale in this charming boutique hotel in Stellenbosch.
In the heart of the town and only minutes away from renowned wine farms, restaurants and more, this is the ideal getaway home for lounging with your partner or sightseeing together.
To view the home, click here.
4. Bushveld bliss in Hoedspruit for R1.09 million
In the Hoedspruit Wildlife Estate, this two bedroom, one bathroom home is perfect for couples who enjoy peace and quiet.
Soak up the stars, tranquillity and wildlife from your own pool, or cosy up around the fireplace.
To view this home, click here.
5. Cosy up in Dullstroom for R1.07 million
This one bedroom, one bathroom apartment is part of a hotel-like complex in the heart of Dullstroom.
The combined bedroom and sitting area has a wood-burning fireplace, ideal for setting the mood and creating ambience.
To view this apartment, click here.
6. A forest retreat with ocean views in Southbroom for R1.6 million
Tucked away in lush greenery and boasting ocean views, this home offers an exclusive escape for you and your significant other.
The freestanding three bedroom, two bathroom home is situated in a secure estate and has a viewing deck.
To view the home, click here.
7. Historic charm in Grahamstown for R1.945 million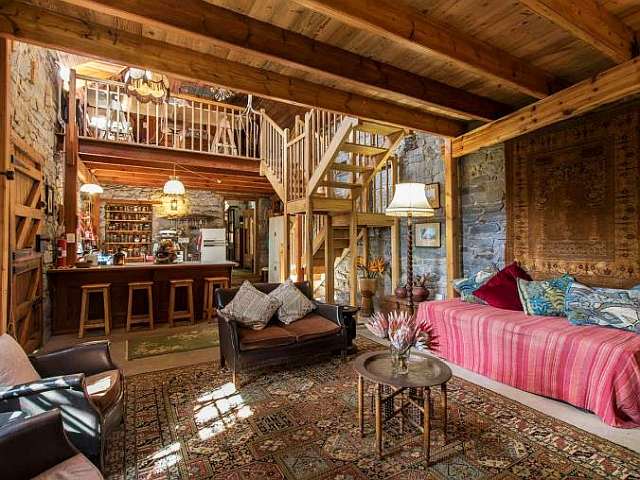 Steeped in history, this former barn in Grahamstown has been beautifully restored to offer a unique lifestyle for the discerning couple.
Incorporating beautiful wood and stonework, the home offers three bedrooms, one bathroom, and is set in a garden with fruit trees.
To view the home, click here.
8. Rustic character in Sutherland for R890 000
This quaint stone cottage in Sutherland, one of South Africa's coldest towns, offers you plenty of opportunity to warm up with an indoor braai and fireplace.
Chandeliers and bespoke curtains add to the charm of this two bedroom, one bathroom home that oozes ambience.
To view the home, click here.
- Ula van Zyl