When you think how much time you spend in the bathroom, it's definitely one of the most hardworking rooms in a home. There used to be a time when homeowners gave little thought to decorating the bathroom - decorating the space with white tiles, white sanitaryware and little else. Nowadays bathrooms are given the due they deserve, and this functional space is decorated with far more than just practicality in mind.
1. The Midas touch
One trend that is definitely seeing a huge amount of attention is that of updating a bathroom with modern taps and fittings, but not your ordinary chrome fittings.
Homeowners are looking for something a little more unique for their bathrooms, and copper or gold finishes for taps and showerheads are definitely top of the list. And for those not a fan of the metallic look, you can always opt for matt black taps and fittings for your bathroom. Black fittings add a contemporary touch to any bathroom, and you will find a varied selection at bathroom suppliers.
Replacing taps and fittings is an affordable and easy option for any homeowner, and replacing tired and old-fashioned fittings will be a worthwhile investment that will instantly add value to the room.
2. Custom furniture
Ditch the plastic-wrapped bathroom vanity and opt for something that lends style and sophistication to the bathroom. Today's modern bathroom vanities are anything but boring, and if you can't afford to spend too much just on a vanity, look at making it yourself.
You would be surprised at how easy it is to make your own bathroom vanity - one that offers plenty of storage for your needs, fits in perfectly with the style of your bathroom, and one that makes a statement on its own.
3. A warm touch
Over the last few years, wood has been making an appearance in bathrooms as we realise how natural materials add warmth to this generally cold space. There are many ways to incorporate wood - or organic elements - into a bathroom if you want to add a warm touch.
If you love the look of wood but are not sure how to incorporate this material into a bathroom, take a look at wood-look bathroom tiles for walls and floors. Even a single wall with wood-look tiles adds warmth to a sterile bathroom. And if you prefer to real thing, shop around or make your own hardwood bathroom fittings and furniture.
4. Keep it light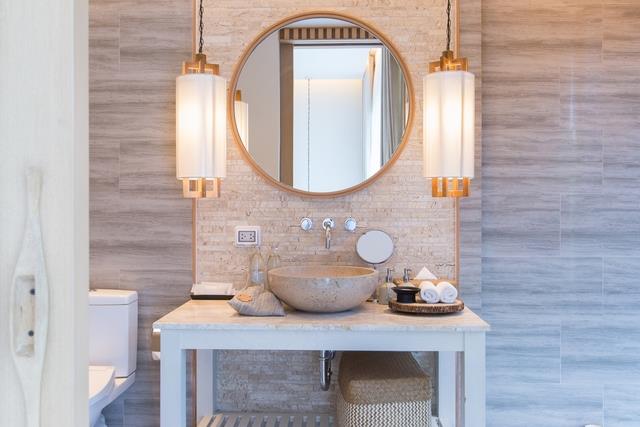 The proper bathroom lighting is essential, especially if you use the bathroom for grooming. The right lighting should not only highlight task areas, but also provide ambience. Shop for fittings that not only look good, but will also elevate the look of your bathroom. Concentrate on the important aspects and splurge on a beautiful chandelier or pendant light as a statement piece.
Article courtesy of www.home-dzine.co.za