Whether you're updating or renovating your bedroom, there are some ways you can make it your ultimate calming space.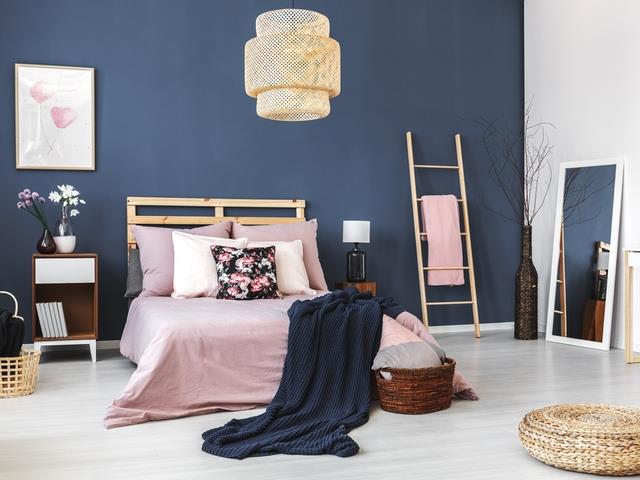 The bedroom is usually the most personal space you have at home and it should be a place that inspires you to rest and refresh.
The bedroom is a place of comfort and refuge, a place to start and end your days. This is usually the most personal space you have at home and it should be a place that inspires you to rest and refresh.
Here are some ways you can decorate your bedroom to make it more relaxing:
1. Create a tempting foundation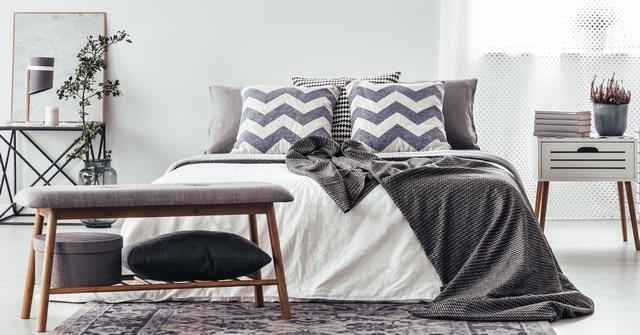 Your bed is the main attraction in the bedroom. Instead of choosing a bed based on its convenience in shipment and size, go for something that fits you right. This will set the calming tone in your room. Choose something like a padded bed with neutral or lightly-coloured fabric to give your room a soft and comfy look. If this doesn't appeal to you, try something with a simple frame or a bed with an open base.
These styles usually take up less space and make the room look airy instead of cramped. You'd also want to indulge yourself in a comfy mattress to seal your comfort package. Choose the best mattress to ensure that you don't regret your choice.
2. Choose light and natural colours for the walls
Light, natural colours help make a space look peaceful while dark ones make it look cramped. Think about using light blue, beige, light green, or white for your wall colour. If you think this is expensive, think again, you can even paint your walls yourself.
Move the furniture away from the wall, cover it and the floor before you start painting.
3. Establish your personal spot
In your bedroom, the nightstand is a place where you should show your style as it's your most personal space. Start with a side table or nightstand that best fits your needs. Consider a side table with shelves if you want extra storage for your reading materials. Or you might want one with drawers, or just something to place your late night tea or alarm clock. Place a cute table lamp or hang a painting or your favourite photo to make it look and feel extra personal. This adds soothing elements into your bedroom.
4. Combine light wood tones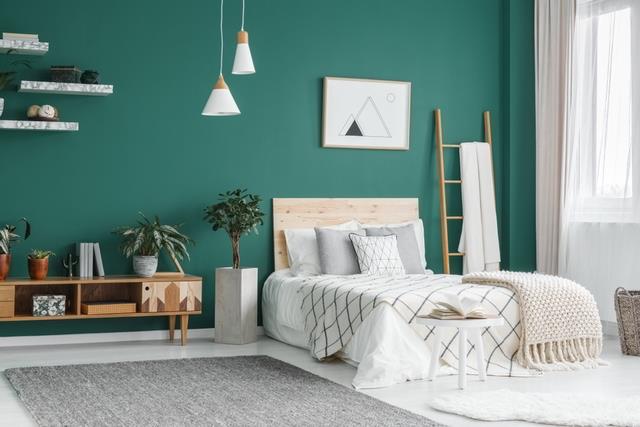 Whether it's your dresser or nightstand, including light wood tones inside your room can help make it look spacious and clean. If your space allows, try a dresser that's big enough to keep your things while also serving as a displaced surface for small items. The idea is to choose something neutral and stick to a light colour palette for your bedding, furniture and embellishments.
5. Decorate your walls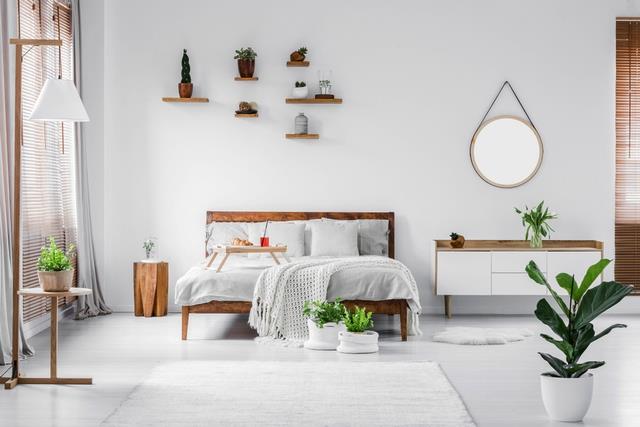 The bedroom walls are usually difficult to embellish especially if your goal is to create a relaxing atmosphere. But then if you leave the walls empty, it will somehow look and feel incomplete. A good place to start is with a round mirror. Place the mirror above the bed to help reflect light inside the room. This gives it the illusion of being larger than it is.
Another way is to use an open bookshelf instead of a nightstand since it has multiple functions. It can serve as a nightstand without taking up plenty of space and doesn't feel heavy. A bookshelf also extends vertically so it can fill the wall without overwhelming the room.
6. Add a little colour
Although a completely white bedroom can look very clean and comfy, a planned approach to colours can make the bedroom look as equally attractive. Adding a pop of colour will also break up the monotony of white beddings and white walls.
To do this step, first you need to choose a colour. Because colours affect moods, it's better to choose cooler hues such as blue, lilac, or light grey to help promote rest and relaxation.
Pick your rug, pillows, accents, and art based on your chosen colour. Doing this will ensure that there is harmony inside the bedroom. You will have one continuous palette and this colour will be your guide in finding things that you decide to bring into the room later.
Sticking to one hue will help reduce visual frenzy and will help create a generally clean look.
7. Improve air circulation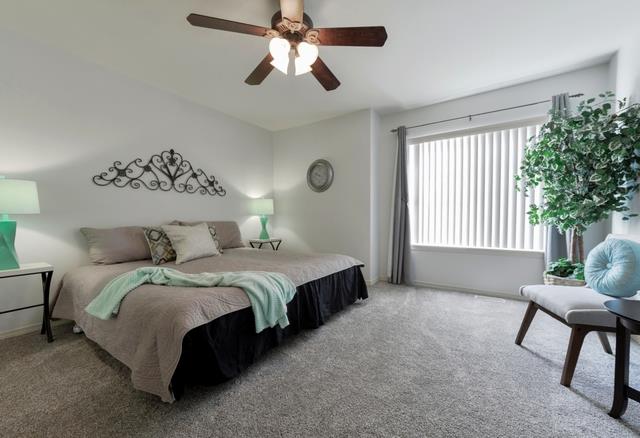 Consider adding a fan into your bedroom to help provide ventilation inside the room, which can help promote better sleep. In choosing a fan, ensure that it makes as little noise as possible.
8. Use a pop of green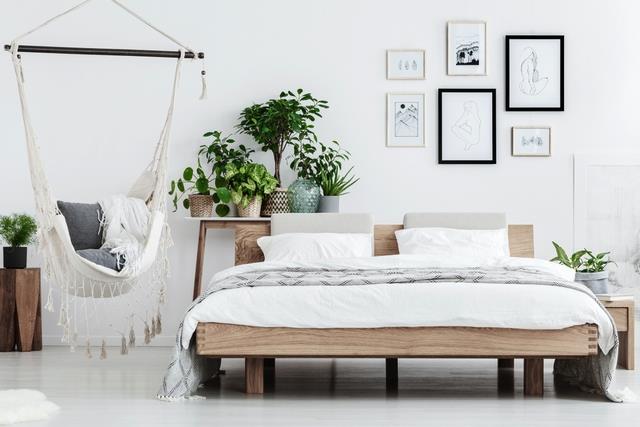 You don't need a green thumb to add one or more plants into your bedroom for a sense of life and peace. Have one large plant in one corner of the room or place a few small plants on your dresser or nightstand. You'll need to water them once a week. Be sure to open the curtains in the daytime to let the sunshine in to allow your plants to thrive.
9. Declutter and keep the room orderly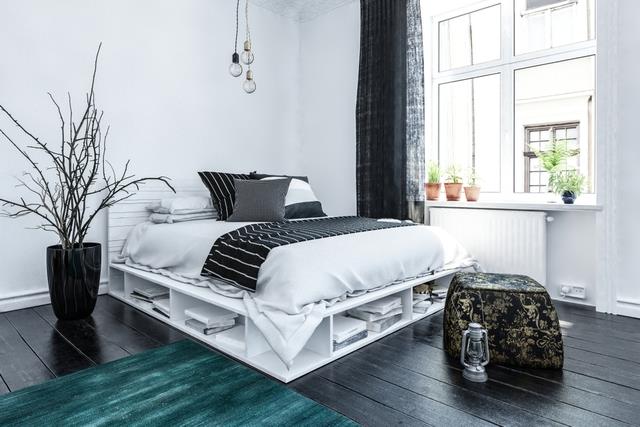 Although you can't see mess when you sleep, some people find it difficult to fall asleep with clutter around them. To reduce clutter inside the bedroom, you'd only need to keep the needed furniture. No mess means no distractions, which can help you recharge at the end of the day.
10 Use blackout window covers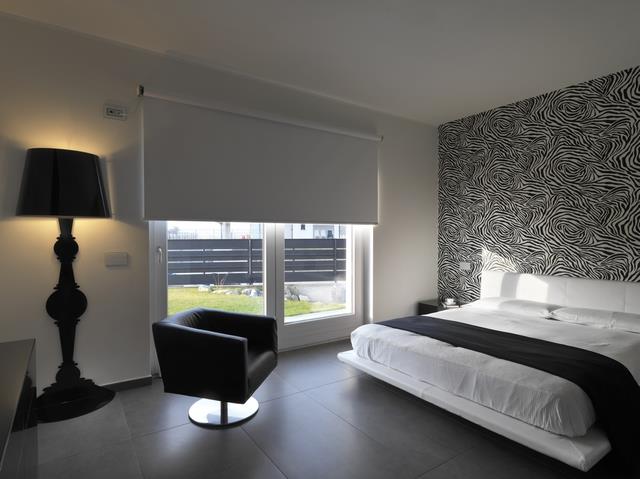 For the body to rejuvenate itself effectively during sleep, it needs to do so without the presence of light. There are many blackout window cover options that allow natural sunlight during daytime while providing privacy.
11. Treat the senses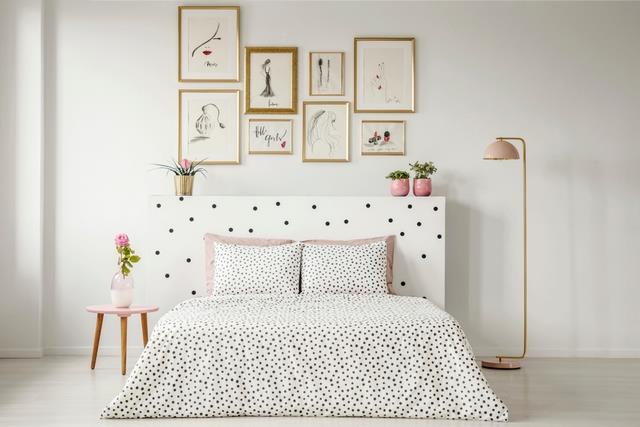 Have your body and mind relaxed by soothing all your senses. Recreate a relaxing spa experience in the bedroom by adding fresh flowers, using a diffuser for fragrance, and a sound machine for blocking outside noises. You can also light some aromatherapy candles to set that relaxing mood, but don't forget to blow them out before sleeping.
12. Eliminate technology
This means not bringing the laptop to bed or placing your computer inside the bedroom. Insinuate that relaxing atmosphere you want as soon as you step inside the bedroom and stay away from work as much as possible. The day's work is over and now that you've come inside the bedroom, it's time for some rest. Don't bring in exercise equipment and a television, or your phone to bed with you.
Finally
Regardless of what you do during the day, it's always nice to come inside the relaxing refuge of your bedroom. While there are many decorating themes you can try, it's better to give the bedroom a peaceful and calming look. Indulge your senses by choosing soft colours for your walls, choosing your decor well, considering ventilation, and adding a relaxing fragrance to your bedroom. Taking technology out of the bedroom will also make your bedroom a place to refresh your mind and body.
Article courtesy of www.home-dzine.co.za